| | | |
| --- | --- | --- |
| | May | |

| | | |
| --- | --- | --- |
| | 2017 | |
The Holy Apostle Simon the Zealot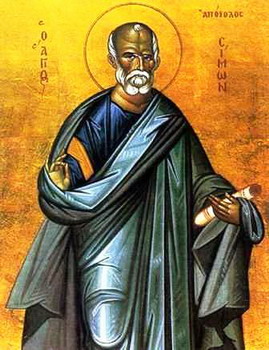 One of the twelve Great Apostles, he was born in Cana of Galilee. The Lord Jesus came to his wedding with His Mother and His disciples, and, when the wine ran out, the Lord changed water into wine. Seeing this wonder, the newly-married Simon left his home and parents and bride, to go after Christ. Simon was called the Zealot because of his great and burning zeal for the Saviour and His Gospel. After receiving the Holy Spirit, he went off to preach the Gospel in Mauretania in Africa. As a result of his success in bringing many to the Faith of Christ, he was tortured and finally crucified like his Lord, who had prepared a crown of glory for him in His immortal Kingdom.
The Holy Martyrs Alphaeus, Philadelphus and Cyprinus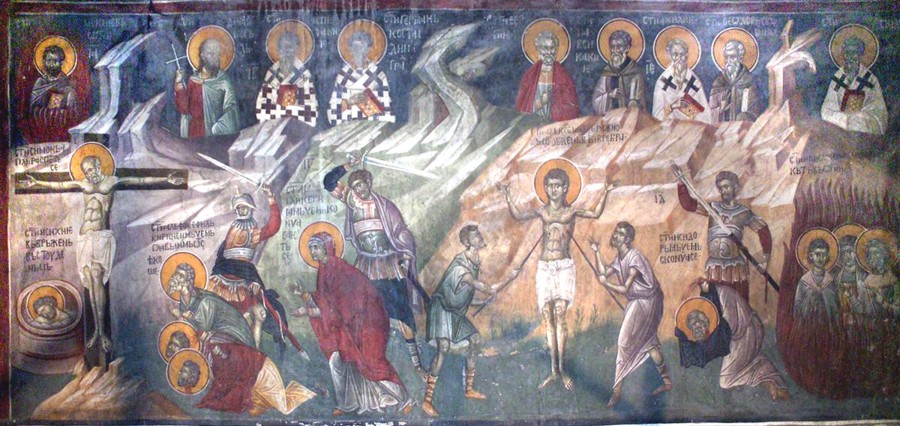 They were brothers, sons of Vitalius, a governor in southern Italy, and were men of great nobility and strong faith. They were brought to judgement for their faith in Christ and taken from one judge to another, from one torturer to another. They were finally taken to Sicily and killed there, in the time of the Emperor Licinius. Alphaeus had his tongue torn out and died from the loss of blood. Philadelphus was burned in an iron coffin, and Cyprinus in fire. Their uncorrupt relics were found in 1517. The three brothers appeared to St Euthalia (see March 2nd).
Our Holy Mother Isidora the Fool for Christ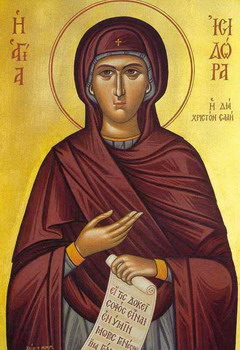 She lived in the fourth century, and was a nun in a women's monastery in Tabennisi. She pretended to be mad in order to conceal her virtues and asceticism. She did the dirtiest jobs, fed herself from left-over scraps from the plates, was the servant of each and all and was despised by everyone. At that time, an angel of God appeared secretly to the great ascetic Pitirim, and told him about Isidora. Pitirim came to the monastery and, when he saw Isidora, bowed down to the ground, and she did the same before him. The sisters told him that she was mad. 'it is you that are mad,' replied Pitirim; 'she is greater before God than either you or me. I only beg God to give me also that which is destined for her at the Dreadful judgement!' Then the sisters were ashamed, and begged Pitirim and Isidora to forgive them. From that time, they all began to show honour to Isidora. But she, to escape this honour, fled from the monastery and died - it is not known where - in about 365.
Blessed Thais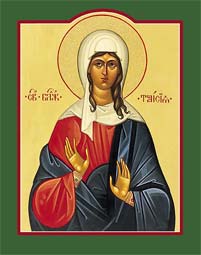 Thais was a rich maiden, a Christian, in Egypt. She decided not to marry, but to give her possessions to the hermit monks. But, when she had given away all her goods, she gave herself to a life of debauchery. Hearing of this, the hermits begged Abba John the Dwarf to do something, and he went to Alexandria and began to weep in Thais's hearing. When she heard the old man weeping for her sins, she repented at once, left her house and everything she had and went into the desert after the saint. One night when she was sleeping and John was standing in prayer, he saw an angel in a nimbus of light coming down to take Thais's soul. And John saw that her sudden but deep repentance was more pleasing to God than the years-long but shallow repentance of many of the hermits.
St. Simon, bishop of Vladimir and Suzdal (Kiev Caves) (1226)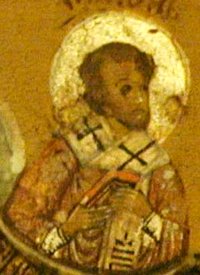 Sainted Simon, Bishop of Vladimir and Suzdal', was an author of the Lives of the Kievo-Pechersk monastic fathers, and he became a monk at the Pechersk monastery, sometime in the second half of the XII Century. In the year 1206 he was appointed hegumen of the Vladimir Nativity of the Mother of God monastery, and in 1214, at the wish of prince Georgii Vsevolodovich (+ 1238), he was made the first bishop of Vladimir-on-the-Klyazma and Suzdal'. In 1218 a church was consecrated by him at the Nativity monastery, and in the year 1225 – a cathedral church at Suzdal'. The greatprince deeply respected Saint Simon and was prepared to open up a new bishop's cathedra-chair at Suzdal' for his friend, – the monk Polykarp of the Kievo-Pechersk monastery, who sought after spiritual vain-glory...
Martyr Hesychius of Antioch (4th c.)

The Holy Martyr Isykhios of Antioch lived during the reign of Maximian Galerius (305-311) in the city of Antioch, where he occupied a notable and high official position from the imperial court. Maximian issued an edict, by which all Christians were deprived of military rank and expelled from military service. Those that would not change from the Christian faith he ordered to be taken from them the soldier's belt and insignia of military decoration, and have them degraded to the level of hired servants. In this number also was Saint Isykhios...
Venerable Laurence, monk, of Egypt (6th c.)