| | | |
| --- | --- | --- |
| | December | |

| | | |
| --- | --- | --- |
| | 2017 | |
The Holy Martyr Cecilia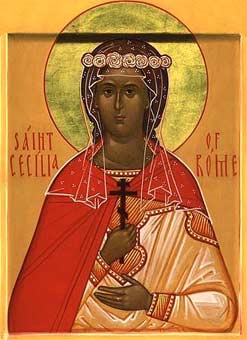 Born in Rome of rich and eminent parents, she had a firm faith in Christ the Lord and a great zeal for the Faith. Vowing life-long virginity to God, holy Cecilia wore a rough hair-shirt underneath the costly raiment that her parents gave her. When they forced her into marriage with a pagan, Valerian, she spent the first night urging her new-wedded bridegroom to go to Bishop Urban for baptism, and then himself to live a life of virginity. Embracing the Christian faith, Valerian also brought his brother Tibertius to it. Both brothers were very soon condemned to death for their faith, but their zeal did not falter in the face of death itself. Taken to the scaffold, these two brothers succeeded in bringing the captain of the guard, Maximus, to the Faith, and they all three suffered together for Christ the Lord. St Cecilia buried their bodies together and was then herself taken for trial, having unwearyingly won over many pagans to the Christian faith. In one evening, she had won over four hundred souls. When the judge asked her whence came her daring, she answered: "From a pure conscience and an unquestioning faith". After harsh torture, she was condemned to be beheaded with the sword. The executioner brought the sword down on her neck three times, but failed to kill her; he only wounded her and the blood ran down from her wounds, being caught in kerchiefs and bowls by the faithful to use for healing. Three days later, Christ"s martyr and virgin gave her spirit into the hands of her Lord, to rejoice with him in eternity. St Cecilia suffered with the others in about the year 230. Her relics are preserved in the church dedicated to her name in Rome . In the Western Church, St Cecilia is regarded as the patron of Church Music.
St Kallistos, Patriarch of Constantinople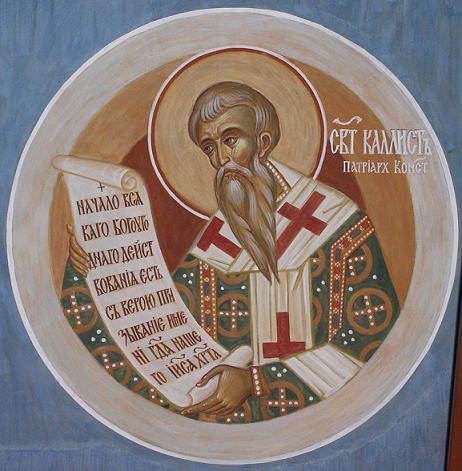 He was named `Xanthopoulos" after the cell of that name on Mount Athos, where he lived for a long time in asceticism with his friend Ignatius. Together with this Ignatius, St Kallistos wrote of his personal experience of a life of silence in a book containing a hundred chapters. This book holds a very important place in ascetic literature. Kallistos was greatly influenced by his teacher, St Gregory the Sinaite, whose life he recorded.
The Holy Martyr Menignus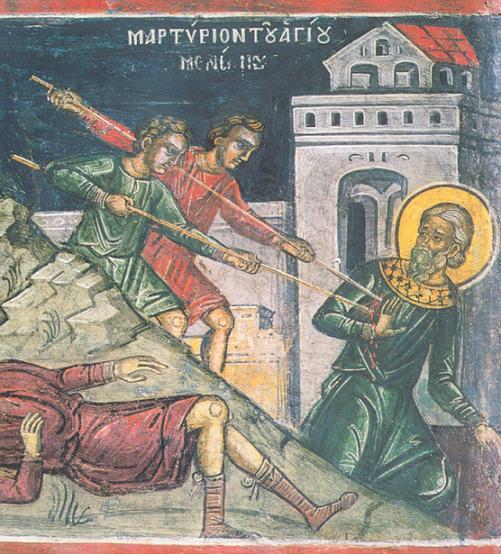 Born on the Hellespont, he worked as a linen-bleacher, and so was called "the Bleacher". In the time of the Emperor Decius (249-25 1), he tore up the imperial decree on the persecution of Christians, and was consequently thrown into prison. There, the Lord Himself appeared to him and encouraged him, saying: "Fear not; I am with thee." At that moment, his shackles melted like wax, the prison opened of itself and he went out. He was again seized and brought to trial. He was inhumanly tortured: his fingers and toes were cut off, and then he was beheaded. His severed head glowed at night like a lamp.
Holy and Righteous Michael the Soldier
He was a Bulgarian by birth. With his friends, he went into the Greek army to fight against the Hagarenes in Ethiopia, there displaying an extraordinary fearlessness. He killed a poisonous snake and freed a maiden. Very soon after that, this righteous man entered into eternal life. He was first buried somewhere in Thrace, but in 1206 the Emperor Kalo-John translated his relics to Trnovo. He lived and died in the ninth century.
The Holy Apostles Philemon, Archippus and Apphia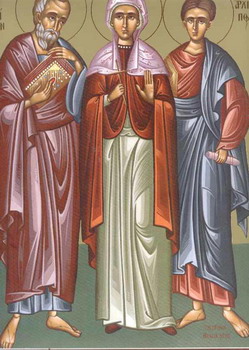 Their lives are recorded on February 19th.
Martyr Procopius the Reader at Caesarea in Palestine (303)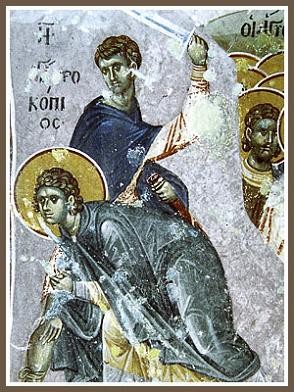 The Holy Martyr Prokopios was a reader in the Jerusalem Church. He led a strict ascetic life, for which he acquired from the Lord the gift to cast out demons. The zealous preacher of the Word of God was arrested and brought to trial in Palestinian Caesarea. For his refusal to offer sacrifice to idols, he was beheaded.
Venerable Agabbas of Syria (5th c.)
The Monk Hagabba was by birth an Ishmaelite (Arab) and pursued asceticism in Syria. He was a novice under the Monk Eusebios, from whom he learned inner prayer and silence, and he lived 38 years as an hermit. The saint always went barefoot, wore chains on his loins and never sat nor lay down. The Monk Hagabba spent both day and night standing or kneeling, constantly at prayer. His ascetic life finished with a peaceful end.
Martyrs Stephen, Mark, and Mark (another) at Antioch in Pisidia (4th c.)
Martyrdom of St. Michael, prince of Tver (1318)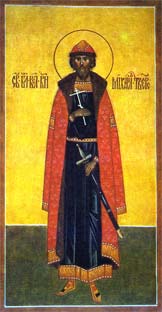 Holy Nobleborn Prince Michael of Tver was born in the year 1272, already after the death of his father Greatprince Yaroslav Yaroslavich, – a brother by birth of holy Nobleborn Prince Alexander Nevsky (Comm. 23 November). On the journey to the Horde prince Yaroslav had fallen ill, and having taken monastic vows with the name Athanasii (Afanasii), he died. Michael's mother, Xenia (Ksenia), raised her son in fervent love towards God. Michael was educated and studied under the guidance of the Novgorod archbishop (probably Kliment)...
Martyr Agapion of Greece (304)