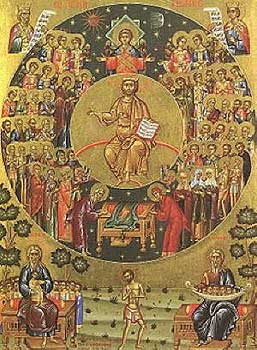 Saint Michael the Soldier of Bulgaria, was among the first of the Bulgarians to become Christian, and lived in the city of Potuka during the reign of the Byzantine Emperor Michael III (855-867). While still an infant, he was known as a "saintly child." From his youth he led a blameless life, possessed the fear of God, fasted, generously distributed alms to the poor, visited the sick, and was meek and humble.
At twenty-four years of age St Michael was made commander of a troop of soldiers. At that time, the Turks were warring against Christians, and St Michael inspired his troops by his bravery in battle. When the allies of the Bulgarians, the Greeks, fled from the field of battle, he fell to the ground and prayed with tears for the deliverance of the Christians. Then he led his own soldiers against the enemy. Rushing into the center of the enemy formation, he put them into disarray, and remained unharmed himself.
Returning homeward after a battle, he rescued the inhabitants of a certain city in the Raipha wilderness from a huge beast which emerged from a lake and attacked children. People came to see this brave soldier when they heard that he had slain the beast they once worshiped as a god. He preached the Gospel to them, and turned them from demon worship and human sacrifice.
Soon after he returned home, St Michael surrendered his soul to the Lord, Whom he had loved since his youth. He wrought many miracles after death, healing those who came to him with faith.
The transfer of the relics of the saint from Potuka to Trnovo occurred in the year 1206, and at the beginning of the nineteenth century, they were transferred to Wallachia.