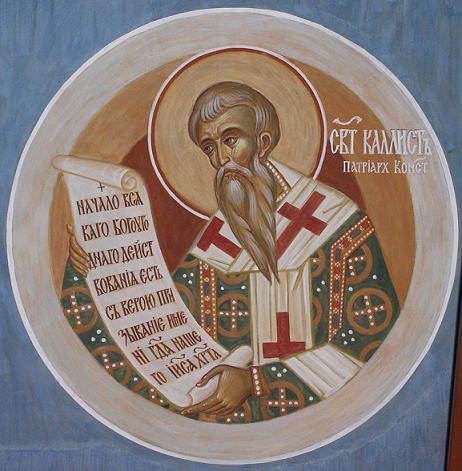 Saint Callistus II, pursued asceticism at the Magul skete on Holy Mount Athos (opposite the monastery of Philotheou), living there for twenty-eight years. He was the disciple of St Gregory of Sinai (August 8), whose Life he wrote.
Working with his fellow ascetic Ignatius of Xanthopoulos, he compiled the "Directions to Hesychasts in One Hundred Chapters" found in the second part of the Slavonic edition of the PHILOKALIA (English translation in Kadlubovsky and Palmer, WRITINGS FROM THE PHILOKALIA ON PRAYER OF THE HEART). As their contemporary, St Simeon of Thessalonica (September 15) asserts, Sts Callistus and Ignatius of Xanthopoulos beheld the Uncreated Light, as the apostles had done on Mount Tabor. Their faces seemed to "shine like the sun."
In 1397 he was elevated to the patriarchal throne, and was hierarch during the days of Manuel Paleologos (1391-1425). He agreed to journey to Serbia in order to bring peace to that church, stopping along the way at Mt Athos. There, the Patriarch was told that he would not see his flock again. Upon reaching Serbia, he exchanged this temporal life for life eternal.