| | | |
| --- | --- | --- |
| | November | |

| | | |
| --- | --- | --- |
| | 2017 | |
The Holy Apostles Olympas, Erastus, Quartus, Herodion, Sosipater and Tertius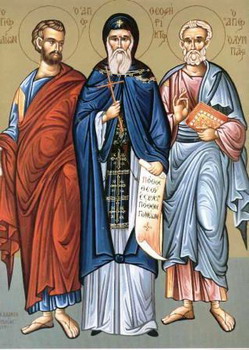 They were all among the Seventy. The last three are also commemorated elsewhere: Herodion on April 8th, Sosipater on April 28th and Tertius on October 30th. Ss Olympas and Herodion were followers of the Apostle Peter and, when Peter suffered, they suffered too, being beheaded at Nero"s command. Erastus was steward of the Church in Jerusalem, and later became Bishop of Paneas in Palestine. Quartus was bishop in Beirut; he suffered greatly and brought many to the Christian faith. Sosipater was bishop in Iconium, and Tertius followed him as bishop there. They strove in spirit, became victors and were crowned with wreaths of glory.
The Holy Martyr Orestes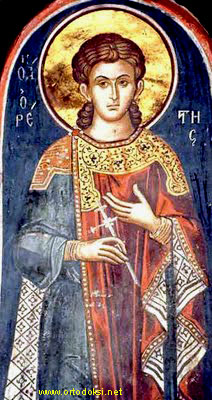 From the town of Tyana in Cappadocia, St Orestes was a cradle Christian and a doctor by profession. He was harshly interrogated by a wicked governor, Maximinus, in the reign of Diocletian (284-305). When the governor urged him to deny Christ and worship idols, Orestes replied: "If you knew the power of the Crucified, you would reject idolatrous lies and worship the true God." For this he was harshly beaten, then flayed and cut about, then burned in boiling lead and finally thrown into prison to die of hunger. The young Orestes spent seven days without bread or water. On the eighth day, he was brought before the governor, who began to threaten him with terrible tortures. To this Orestes replied: "I am ready to undergo every torture, having the sign of my Lord Jesus Christ inscribed on my heart." Then the governor ordered -that twenty nails be hammered into his legs and that he be bound behind a horse and dragged through thistles and rocks until he expired. In the place where Orestes" body was thrown, a man radiant as the sun appeared, gathered the bones and took them to a hill near Tyana, burying them there. This great saint, Orestes, appeared to St Dimitri of Rostov and showed him all his wounds.
St Nonnus, Bishop of Heliopolis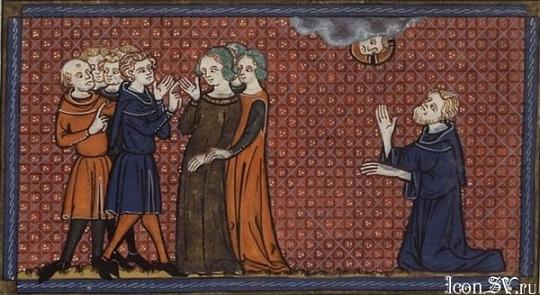 He was renowned as a great ascetic in the Tabennisiot monastery in Egypt, because of which he was chosen as bishop in 448, in the diocese of Edessa. He was later translated to the diocese of Heliopolis, and there brought thirty thousand Arabs to the Christian faith. After the death of Bishop Ibo, St Nonnus returned to Edessa, where he remained till his death in 471. Through his prayers, the notorious sinner Pelagia was brought to the Christian faith. She was later glorified for the holiness of her life (see Oct. 8th).
Hieromartyr Milos (Miles), bishop in Persia (341), and two disciples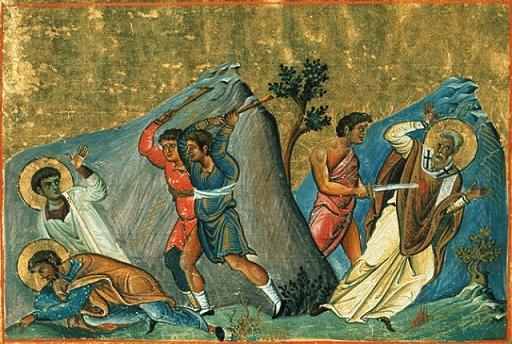 The PriestMartyr Milios, Bishop of Persia, and his two Disciples, lived during the IV Century. The holy Martyr Milios was banished from the city of Suza, where his bishop's cathedra was situated. By his pious and ascetic life he was vouchsafed gifts of prophecy and healing. The saint suffered in the year 341 with two if his students, Abrosim and Sinos [trans. note: this text variance of name from the header above is in the Russian original, perhaps reflecting alternate Graeco-Russian transcriptions of Persian names], in their native city of Suza. They returned there after long wanderings and brought many to Christ.
Commemoration of the torture of Great-martyr George in 303.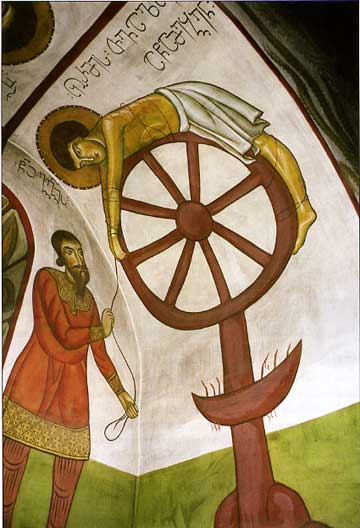 Celebrated by the whole Christian world, Great-martyr George was slain by Emperor Diocletian in the year 303. The holy martyr is appropriately considered the intercessor for all Christians and the patron saint of many. He is regarded with special reverence among the Georgian people, since he is believed to be the special protector of their nation. Historical accounts often describe how St. George appeared among the Georgian soldiers in the midst of battles...