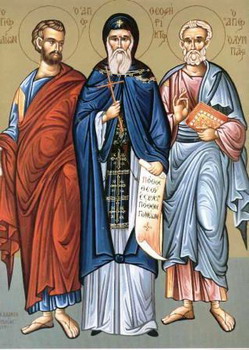 The holy Apostles Erastus, Sosipater (April 28), Quartus and Tertius (October 30) were disciples of St Paul. The Apostle to the Gentiles speaks of them in the Epistle to the Romans, "And Erastus, the city treasurer, greets you, and Quartus, a brother" (Rom 16: 23).
Troparion - Tone 3
Holy Apostles, Erastus, Olympas, Herodion, Sosipater, Quartus and Tertius,
entreat the merciful God,
to grant our souls forgiveness of transgressions.
Kontakion - Tone 2
Illumined by divine light, O holy apostles,
you wisely destroyed the works of idolatry.
When you caught all the pagans you brought them to the Master
and taught them to glorify the Trinity.