| | | |
| --- | --- | --- |
| | July | |

| | | |
| --- | --- | --- |
| | 2017 | |
Our Holy Mother, the Martyr Fevronia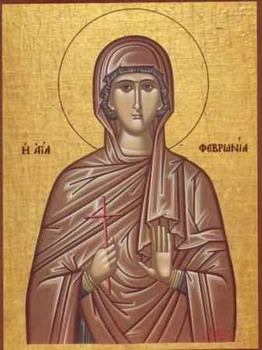 She was the daughter of Prosphorus, a Roman senator. In order to escape marriage with a mortal man, she betrothed herself to Christ and became a nun in the East, in Assyria, in a monastery where her aunt, Bryaena, was abbess. Lysimachus, a nobleman"s son, was desirous of entering into marriage with Fevronia, but the Emperor Diocletian, suspecting him of being a secret Christian, sent him to the East with his uncle, Silenus, to seize and kill the Christians. Silenus was as ferocious as a wild beast and mercilessly exterminated the Christians wherever he could. Lysimachus, on the contrary, protected the Christians whenever possible and hid them from his bestial uncle. Having emptied Palmyra of Christians, Silenus came to the city of Nisibis, close to which there was the monastery of fifty ascetic virgins in which Fevronia was a nun. Although she was barely twenty years old, Fevronia was held in respect both in the monastery and in the city for her meekness, wisdom and restraint. The monastery followed the rule of a former abbess, Blessed Platonida, and every Friday the nuns would spend their time in prayer and reading sacred books, with no other work. Bryaena had appointed Fevronia to read to the other sisters while standing behind a curtain, so that no-one would be distracted or captivated by the beauty of her face. When Silenus heard about Fevronia, he ordered that she be brought before him. When the holy maiden refused to renounce Christ and enter into marriage with a mortal man, he ordered them to whip her and then cut off her hands, breasts and feet and finally to slay her with the sword. But a fearful divine punishment came upon her tormentor that very day. A demon entered into him, and a fearful terror took hold of him. In his terror, he struck his head on a marble pillar and fell down dead. Lysimachus ordered that Fevronia"s body be gathered together and brought to the monastery for solemn burial, and he, together with many of the soldiers, was baptised. Many hearings were wrought through Fevronia"s holy relics, and she herself appeared on the day of her Feast, standing in her usual place among the sisters. They beheld her with both fear and joy. St Fevronia suffered and went to eternal blessedness in the year 310, and her relics were translated to Constantinople in 363.
Our Holy Father Dionysius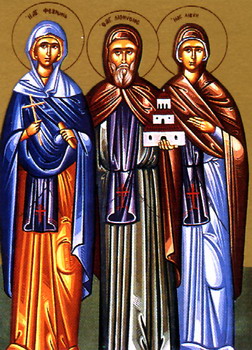 The founder of the monastery of St John (Dionysiou) on Mount Athos, he was born in Koritza in Albania. His elder brother, Theodosius, went off to the Holy Mountain and became for a time abbot of the monastery of Philotheou. When St Dionysius had grown up, he went to his brother at Philotheou and became a monk at his hand. By divine dispensation, when Theodosius was engaged on some business for his monastery in Constantinople, he was elected and consecrated Metropolitan of Trebizond. A wondrous light began to appear to Dionysius each night on the spot where he later built the monastery of St John the Forerunner. Understanding the light as a sign from heaven that he was to build a monastery, Dionysius went to Trebizond to seek help from his brother and from the Emperor Alexius Comnenis. The Emperor gave him both money and a Royal Charter, which is still preserved in the monastery. Dionvslus founded the monastery of St John the Forerunner in 1380. When pirates plundered the monastery, Dionysius went again to Trebizond, and there finished his earthly course at the age of seventy-two. Dionysiou still flourishes like a flower to the present day. An icon of the Mother of God known as ,Of the Praises", a gift from the Emperor Alexius Comnenis to Dionysiou, can be found in the monastery. According to tradition, it was before this icon that the Akathist to the Mother of God, composed by Patriarch Sergius, was read for the first time.
Venerable Dometius (1380) of the Monastery of the Forerunner (Dionysiou),
New Martyr Procopius of Varna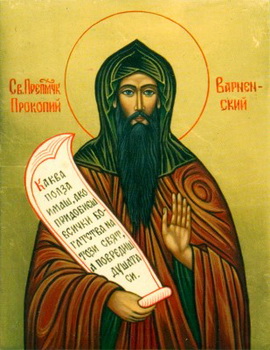 Martyr Procopius of Varna and Mt. Athqs, who suffered at Smyrna (1810)
Venerables Leonis, Libye, and Eutropia of Syria

New Martyr George of Attalia (1823)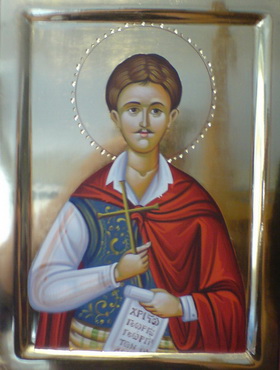 Venerable Symeon of Sinai (5th c.)
Prince Peter (1228) and Princess Febronia, Murom Wonderworkers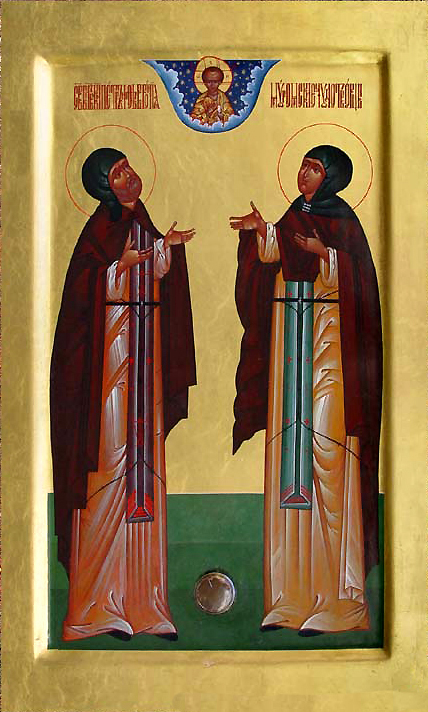 Holy Prince Peter, in monasticism David, and Holy Princess Febronia, in monasticsm Evphrosynia, Murom Wonderworkers: Holy Prince Peter was the second son of the Murom prince Yurii Vladimirovich. He entered upon the throne of Murom in the year 1203. Several years before this Saint Peter had fallen ill with leprosy, from which no one was able to heal him. In a dream vision it was revealed to the prince, that the daughter of a bee-keeper would be able to heal him – the pious maiden Febronia, a peasant of Laskova village in Ryazan gubernia. Saint Peter sent his emissaries to this village...