| | | |
| --- | --- | --- |
| | November | |

| | | |
| --- | --- | --- |
| | 2017 | |
Ss Cosmas and Damian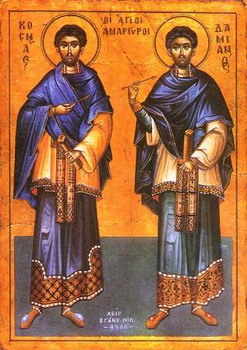 Unmercenaries and wonderworkers, they were brothers in the flesh and in the spirit, born somewhere in Asia of a pagan father and a Christian mother. After their father"s death, their mother Theodota devoted all her time and energy to the bringing-up of her sons as true Christians. God helped her, and her sons grew as two choice fruits and as two holy lamps. They were skilled in medicine and ministered to the sick without payment, and so fulfilled Christ"s command: "Freely have ye received; freely give" (Matt. 10: 8). They were so strict in their unpaid ministry to men that Cosmas became greatly enraged with his brother Damian when he took three eggs from a woman, Palladia, and gave orders that, after his death, he should not be buried with his brother. In fact, holy Damian had not taken those eggs as a reward for healing Palladia"s sickness, but because she had sworn by the Most Holy Trinity that he should have them. However, after their death in Fereman, they were buried together in obedience to a revelation from God. These two holy brothers were great wonderworkers both during their lifetime and after their death. A farm Tabourer, on lying down to sleep at one time, was attacked by a snake, which entwined itself around his mouth and stomach. This poor man would have breathed his last in the greatest torment had he not at the last moment invoked the help of Saints Cosmas and Damian. Thus the Lord glorified forever by miracles those who glorified Him here on earth by their faith, purity and mercy.
The Holy Martyr Hermenegild the Heir
He was the son of the Gothic King Luvigeld, who held the Arian heresy. Hermenegild, however, did not turn from Orthodoxy, in spite of the flattery and threats of his brutal, heretic father. His father threw him into prison and, at Easter, sent a heretic bishop early in the morning to give him Communion. This man of God would not receive Communion at the hands of a heretic; a fact that the bishop passed on to the king. The king was furious, and ordered the executioners to cut off Hermenegild"s head, which came to pass in 586. Luvigeld later repented of having killed his son, abjured his heresy and returned to Orthodoxy.
Our Holy Father, the Martyr James, with his disciples James and Dionysius

He was born in the diocese of Kastoria, of parents called Martin and Paraskeva. Working as a shepherd, James became rich and thus incurred the envy of his brother, who reported him to the Turks as having found some money in the ground. James fled to Constantinople, where he became poor. He was once the guest of a Turkish Bey. The Turks were eating meat, but James was fasting. The Bey said: "Your Christian faith is indeed great!", and he related how his wife had been sick in mind and how, after trying all doctors and medicines, he had taken her to the Patriarch for prayers to be read over her. As soon as the Patriarch opened the book to read, a heavenly light filled the church. When the prayer was ended, his wife was made whole. James, hearing how the Bey extolled the Christian faith, gave away all that he had and went to the Holy Mountain, where he became a monk in the monastery of Iviron. He lived in asceticism on the Holy Mountain, and suffered for the Faith at the hands of the Turks in Jedrene on November 1st, 1520. His wonderworking relics and those of his disciples are preserved in the monastery of St Anastasia near Salonica.
Martyrs Cyrenia and Juliana in Cilicia (305)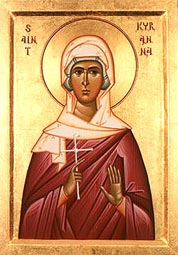 The Holy Martyrs Kyriena from Tarsus and Juliania from Rosa were arrested for confessing the Christian faith under the governor of Cilicia, Marcian, during the reign of the emperor Maximian Galerius (305-311). They led Saint Kyriena, stripped and with shorn head, around Tarsus for ridicule, and then together with Saint Juliania they went to the city of Rosa, where they gave them over to burning.
Hieromartyrs John the Bishop and James the Presbyter, of Persia (345)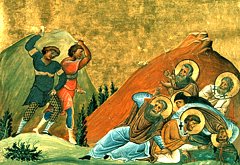 Hieromartyr John, bishop and James, presbyter, for their zealous sermon on Christ, were beheaded in Persia during the reign of Shapur II in the Fourth Century.
Martyrs Caesarius, Dacius, Sabbas, Sabinian, Agrippa, Adrian, and Thomas at Damascus (7th c.)
Martyrs Caesarius, Dacius and five other martyrs suffered for Christ in Damascus during its capture by the Mohammedans in the Seventh Century. St. Caesarius and Dacius were beheaded. The names of the five martyrs who suffered with them are the following: Sabbas, Sabinian, Agrippa, Adrian and Thomas.
Venerable David of Euboea (1589)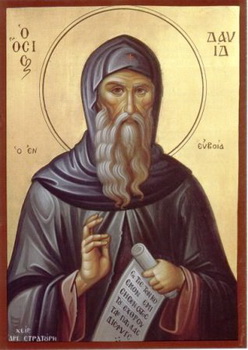 Martyrs Cyprian and Juliana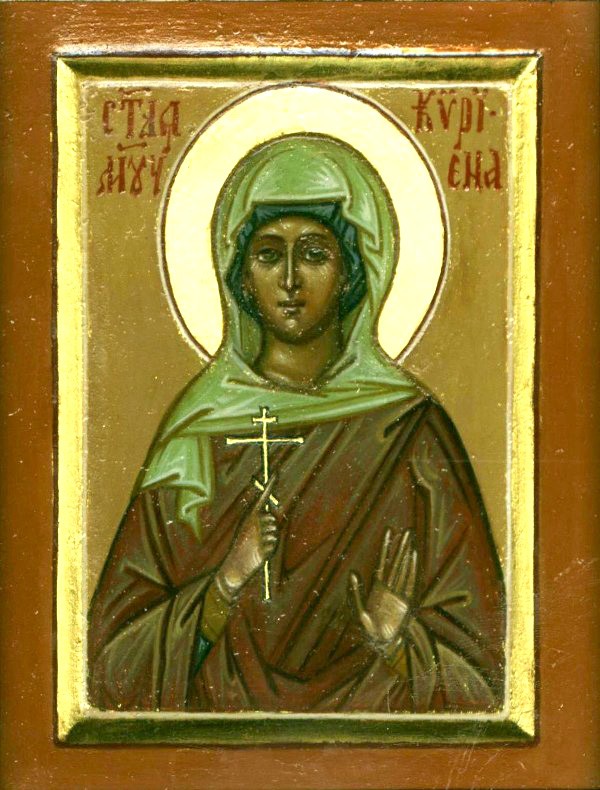 St. Theodota (3rd c.)
Mother of Holy Wonderworkers and Unmercenaries Cosmas and Damian of Mesopotamia.