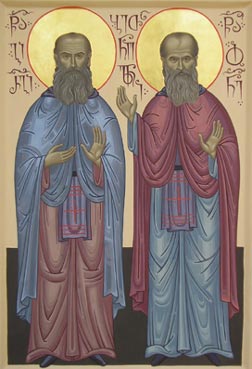 Archimandrite John (Basil Maisuradze in the world) was born in the town of Tskhinvali in Samachablo around 1882. He was raised in a peasant family and taught to perform all kinds of handiwork. Basil was barely in his teens when he helped Fr. Spiridon (Ketiladze), the main priest at Betania Monastery, to restore the monastery between 1894 and 1896.
From his youth Basil was eager to enter the monastic life, and in 1903, according to God's will, he moved to the Skete of St. John the Theologian at Iveron Monastery on Mt. Athos. Among the brothers he was distinguished for his simplicity and obedience. He was tonsured a monk and named John in honor of St. John the Theologian, whom he revered deeply and sought to emulate.
The monk John was soon ordained to the priesthood. Throughout his life the holy father dedicated himself to serving God and his brothers in Christ in hopes that his own life might be fruitful for them.
Fr. John remained on Mt. Athos for seventeen years. Then, due to the increasingly troubling circumstances there, he left the Holy Mountain with the other Georgian monks sometime between 1920 and 1921. He settled at Armazi Monastery outside of Mtskheta, where the Bolsheviks had left just one monk to labor in solitude. Once a band of armed Chekists broke into the monastery, led both Fr. John and the other monk away, and shot them in the back.
Believing them to be dead, they tossed them in a nearby gorge. A group of people later discovered Fr. John's nearly lifeless body and brought it to Samtavro Monastery in Mtskheta. The other monk suffered only minor injuries and returned to the monastery on his own.
When his health had been restored, Fr. John went to Betania Monastery, where his first spiritual father was still laboring. He was appointed abbot shortly thereafter. Accustomed to hard work from his childhood, he skillfully administered the agricultural labors of the monastery. When visitors came to the monastery seeking advice or solace, Fr. John welcomed them warmly, spreading a festal meal before them. He enjoyed spending time with his guests, especially with children.
It is said that he always had candy or a special treat to give to the little ones. The children loved him so much that on the feast of St. John the Theologian, while he was sprinkling the church with holy water, they skipped around him and tried to tousle his hair. The children's parents were ashamed, but Fr. John cheerfully assured them that it was fitting to be so joyous on a feast day.
Truly Fr. John was endowed with a deep love for young people, and he was also blessed with the divine gifts of prophecy and wonder-working. Once a certain Irakli Ghudushauri, a student at Moscow Theological Seminary, visited him at the monastery. Fr. John received him with exceptional warmth, blessing him with tears of rejoicing. This student would later become Catholicos-Patriarch Ilia II, the beloved shepherd who continues to lead the flock of the Georgian faithful to this very day.
Fr. John disciplined himself severely. He worked hard all day and slept on a single piece of wood. He would spend entire nights praying. Many wondered when he rested and where he had acquired such a seemingly infinite supply of energy.
Occasionally thieves would steal food or domestic animals from the monastery. But the monastery also had many protectors, even within the Soviet government. A group of Christians who worked for the government while secretly practicing their faith supported Fr. John and Fr. George (Mkheidze) (see below), explaining and justifying them to the government as "guardians of a national cultural monument."
Many of the miracles performed by Fr. John are known to us today, though he was wary of receiving honor for his deeds. Frs. John and George healed the deaf, and many of the terminally ill were brought to them for healing. After spending several days in the monastery, the infirm would miraculously be cleansed of their diseases. Fr. John bore the heaviest workload in the monastery. He sympathized deeply with Fr. George, who was ailing physically and unfit for strenuous labor. But Fr. John departed this life before Fr. George. Fr. John became ill and reposed in 1957, at the age of seventy-five. He was buried at Betania Monastery.
Fr. George (Mkheidze) was born in the village of Skhvava in the Racha region around 1877. He received a military education—a highly esteemed commodity among the Georgian aristocracy—but instead of pursuing a military career in defense of the Russian empire, he dedicated himself to Georgia's national liberation movement. At one point the pious and learned George worked for St. Ilia the Righteous as his personal secretary. He often met St. Ilia's spiritual father, the holy hierarch Alexandre (Okropiridze), and the holy hieromartyr Nazar (Lezhava), and he was acquainted with other important spiritual leaders of the time as well.
Desiring to sacrifice his life to God, George was tonsured into monasticism by the holy hieromartyr Nazar. His rare character combined a nobleman's deportment with a monk's humble asceticism. Fr. George was ordained a priest and soon after elevated to the rank of archimandrite.
Filled with divine love and patriotic sentiment, the holy father willingly endured the heavy burdens and spiritual tribulations afflicting his country at that time.
In 1924, while Fr. George was laboring at Khirsa Monastery in Kakheti in eastern Georgia, an armed Chekist mob broke into the monastery. The perpetrators beat him, cut off his hair, shaved his beard, and threatened to take his life. He sought refuge with his family, but to no avail—his brothers, who were atheists, shaved off his beard while he was sleeping. (One of Fr. George's brothers later committed suicide, and the other, together with his wife, was shot to death by the Chekists.) In the same year, Fr. George visited Betania Monastery and was introduced to Fr. John (Maisuradze), with whom he would labor for the remainder of his life.
Fr. George's health was poor, and he was able to perform only the lightest of tasks around the monastery. He tended the vegetable garden and took responsibility for raising the bees. He was extremely generous. At times he would give all the monastery's food to the needy, assuring Fr. John that God Himself would provide their daily bread.
Tall, thin, and with an upright posture, Fr. George was strict in both appearance and demeanor. He spoke very little with other people, and children did not play with him as they did with Fr. John. Knowing his character, they tried to please him by reciting prayers and behaving themselves. Fr. George did not like to leave the monastery, but it was often necessary for him to travel to Tbilisi to visit his spiritual children— among whom were many secret Christians who worked for the government.
Fr. George was endowed with the gifts of prophecy and healing, but he was careful to hide them. When constrained to reveal them, he would pass them off as though they were nothing extraordinary. Once a certain pilgrim arrived at the monastery and was surprised to discover that Fr. George knew him by name. Sensing his great amazement, Fr. George told the pilgrim that he had attended his baptism some thirty years earlier, thus concealing his God-given gift. Fr. George knew in advance when his nephew was bringing his sisters, whom he had not seen in forty-eight years, to visit him at the monastery during Great Lent.
Enlightened with this foreknowledge, Fr. George prepared fish and a festal meal in honor of the occasion.
The prayers of Fr. George and Fr. John healed the former's nephew, who was afflicted by a deadly strain of meningitis. They restored hearing to a deaf child and healed many others of their bodily infirmities.
In 1957, when Fr. John reposed in the Lord, Fr. George was tonsured into the great schema. He was given the name John in honor of his newly departed spiritual brother. Fr. George-John now bore full responsibility for the affairs of the monastery. His health deteriorated further under the weight of this heavy yoke. His spiritual children began to come from the city to care for him.
Once a twenty-year-old girl arrived at the monastery, complaining of incessant headaches. She had been told that the water from Betania Monastery would heal her. She remained there for one week and was miraculously healed. When she left to return home, Fr. George-John walked five miles to see her off, in spite of his physical frailty.
The Theotokos appeared to Fr. George-John in a vision and relieved his terrible physical pain. The protomartyr Thekla also appeared to him, presenting him with a bunch of grapes. Several days before his repose, the holy father was in the city when an angel appeared to him and announced his imminent repose. The angel told him to return to the monastery to prepare for his departure from this world.
St. George-John (Mkheidze) reposed in 1960. He was buried at Betania Monastery, next to Fr. John (Maisuradze). These venerable fathers were canonized on September 18, 2003, at a council of the Holy Synod under the spiritual leadership of His Holiness Ilia II, Catholicos-Patriarch of All Georgia. Frs. John and George-John have been lovingly deemed "one soul in two bodies."