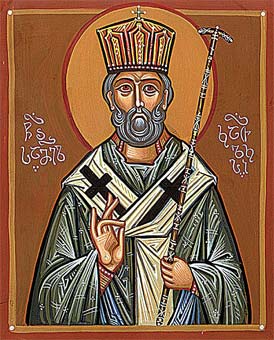 St. Samuel ascended the throne of the Apostolic Orthodox Church of Georgia in the 6th century, after the holy catholicos Peter.
Like St. Peter, Samuel was a native of Byzantium. He arrived with Catholicos Peter in Georgia as a bishop, at the invitation of King Vakhtang Gorgasali and with the blessing of the patriarch of Constantinople.
At that time Svetitskhoveli in Mtskheta was the residence of the catholicos.
After the repose of Catholicos Peter, Samuel succeeded him, and King Dachi "bestowed upon him the city of Mtskheta, according to the will of King Vakhtang." St. Samuel led the Georgian Church during the reigns of King Dachi and his son Bakur. He initiated construction of Tsqarostavi Church in the Javakheti region.
What we know of St. Samuel's activity paints him as a pastor who demonstrated great foresight and cared deeply about his flock. He was also a close acquaintance of the holy martyr Queen Shushanik.
St. Samuel faithfully served the Autocephalous Church of Georgia and labored to strengthen the Christian Faith of the Georgian people to the end of his days.
The Holy Synod of the Georgian Apostolic Orthodox Church canonized the holy catholicos Peter and the holy catholicos Samuel on October 17, 2002.