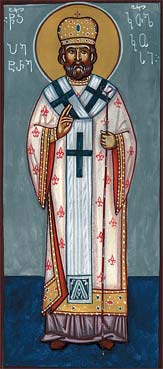 Saint Peter was the first catholicos of Georgia. He led the Church of Kartli from the 460s through the beginning of the 6th century. According to God's will, St. Peter inaugurated the dynasty of the chief shepherds of Georgia.
It is written in the biography of Holy King Vakhtang IV Gorgasali that the king was introduced to Peter, a pupil of St. Gregory the Theologian, during one of his visits to Byzantium, and he became very close to him. At that time he was also introduced to the future catholicos Samuel.
The close spiritual bond of the holy king and the catholicos, combined with their concerted efforts on behalf of the Church, contributed immeasurably to the establishment of friendly political relations between Georgia and Byzantium and the proclamation of the autocephaly of the Georgian Apostolic Church.
Having returned to his own capital, King Vakhtang sent an envoy to Byzantium to find him a wife. He also sent a request that the hierarch Peter be elevated as catholicos and that the priest Samuel be consecrated bishop. He pleaded with the patriarch to hasten the arrival of Catholicos Peter and the twelve bishops with him.
The patriarch of Constantinople approved King Vakhtang's request to institute the rank of catholicos of Georgia. Since the Georgian Church was still under the jurisdiction of Antioch, Peter and Samuel were sent to the Antiochian patriarch himself to be elevated. The autocephaly of the Georgian Church was proclaimed upon the arrival of the holy fathers in Georgia.
St. Peter ruled the Church according to the principle of autocephaly and established a form of self-rule that would later help to increase the authority of the Georgian Apostolic Orthodox Church.
The mutual respect and cooperation of the catholicos and the holy king laid the foundations for future, harmonious relations between secular and Church authorities in Georgia. Their example defined the authority of the Church and a national love and respect for the king.
Peter accompanied Holy King Vakhtang Gorgasali to war with the Persians in 502. It is written that "the fatally wounded king Vakhtang summoned the catholicos, the queen, his sons and all the nobility." St. Peter heard the king's last confession, granted the remission of his sins, presided at his funeral service, and blessed the prince Dachi (502–514) to succeed him as king of Kartli.
Holy Catholicos Peter led the Georgian Church with great wisdom to the end of his days.