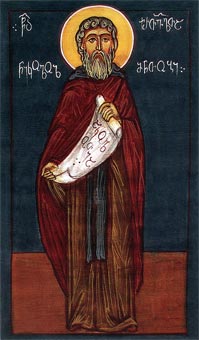 Saint Nicholas was the author of many church services, but little else about his life is known. He lived in the second half of the 13th century, and the last years of his life coincided with the reign of King Vakhtang III (1298, 1302–1308), the son of the holy king Demetre the Devoted.
St. Nicholas was one of the greatest hymnographers and spiritual figures of his time, but few of his works have been preserved. Catholicos Anton I writes that Nicholas composed numerous canons and services, including a "Canon of Supplication for Rain." St. Nicholas enriched the spiritual literature of Georgia with his translations as well. Scholars and historians believe that, as the greatest liturgist of his time, he was probably asked to translate many prayers and services from Greek to Georgian.
Among them, they believe, was the "Canon for the Blessing of Holy Water."
The famous 19th-century historian Platon Ioseliani writes that other church services belonging to the pen of St. Nicholas are included among the manuscripts of the Iveron Monastery on Mt. Athos. St. Nicholas reposed peacefully in the year 1308.