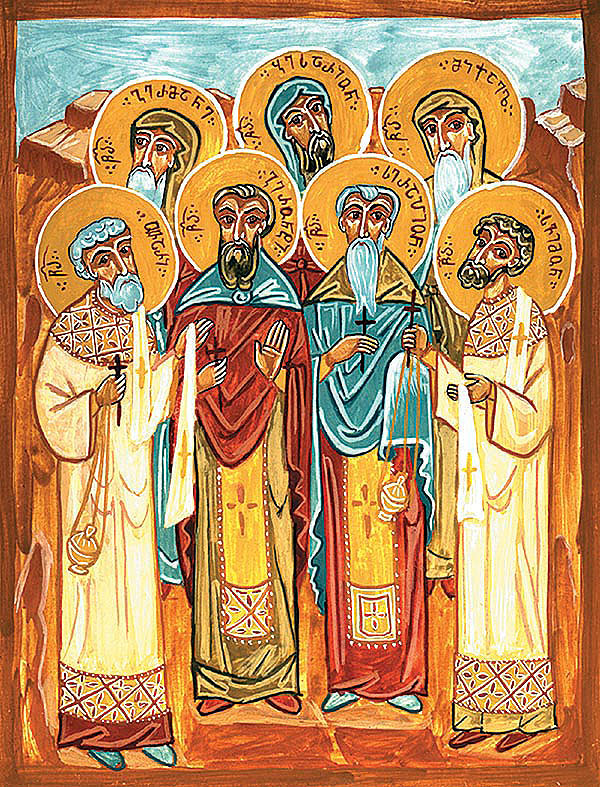 Throughout the 18th and 19th centuries the Dagestanis were continually raiding and pillaging the Davit-Gareji Wilderness. They destroyed churches and monasteries, stole sacred objects, and tortured and killed many of the monks who labored there.
A Dagestani army invaded the Davit-Gareji Wilderness in the summer of 1851. They looted the Davit-Gareji Lavra and carried off many of the monastery's sacred treasures and books. Then they took many of the monks captive and tortured a few of the most pious.
First they stabbed Hierodeacon Otar to death, then they beheaded Hieromonk Gerontius. The unbelievers battered Hieromonk Serapion to death with their swords. Monk Herman was stabbed in the stomach, then beheaded Monk Besarion was also beheaded. The eighteen-year-old Simeon tried to flee on foot but was shot at with bows and arrows, then caught and beheaded. Monk Michael, the most outstanding among the brothers in humility and silence, was subjected to the harshest tortures.
After their martyrdom the bodies of these holy men were illumined with a divine light.
The martyrdom of the holy fathers of the Davit-Gareji Monastery was described in 1853 by Hieromonk Isaac of Gaenati, who witnessed the tragedy. Hieromonk Isaac himself was captured and led away to Dagestan by the merciless bandits. He was later freed through the mediation of Tsar Nicholas I (1825–1855).