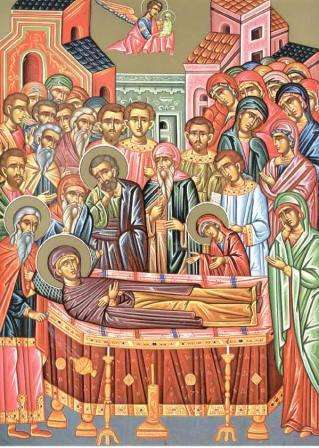 Saint Anna was the daughter of the priest Matthan and his wife Mary. She was of the tribe of Levi and the lineage of Aaron. According to Tradition, she died peacefully in Jerusalem at age 79, before the Annunciation to the Most Holy Theotokos.
During the reign of St Justinian the Emperor (527-565), a church was built in her honor at Deutera. Emperor Justinian II (685-695; 705-711) restored her church, since St Anna had appeared to his pregnant wife. It was at this time that her body and maphorion (veil) were transferred to Constantinople.
St Anna is also commemorated on September 9.
Troparion - Tone 4
Divinely-wise Anna, you carried in your womb the pure Mother of God, who gave life to our Life.
Therefore, you are now carried joyfully to the inheritance of heaven,
to the abode of those who rejoice in glory,
where you seek forgiveness of sins for those who faithfully honor you, ever blessed one.
Kontakion - Tone 2
We celebrate the memory of the progenitors of Christ,
and with faith we ask their help,
that deliverance from every affliction be granted to those who cry out:
"Be with us, O God, who in Your good pleasure glorified them."