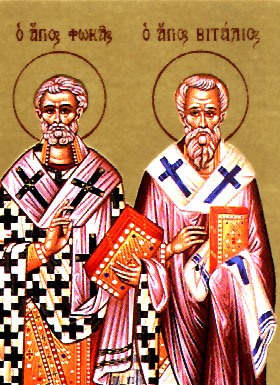 The Transfer of the Relics of the Hieromartyr Phocas from Sinope to Constantinople occurred on July 22 in either the year 403 or 404. His life is found under September 22.
Troparion - Tone 4
By sharing in the ways of the Apostles,
you became a successor to their throne.
Through the practice of virtue, you found the way to divine contemplation, O
inspired one of God;
by teaching the word of truth without error, you defended the Faith, even to
the shedding of your blood.
Hieromartyr Phocas entreat Christ God to save our souls.
Kontakion - Tone 2
The Master established you as a brilliant sun
shining on all the faithful, glorious hieromartyr Phocas.
He has accepted your life, faith and contest as myrrh,
for He is rich in mercy.