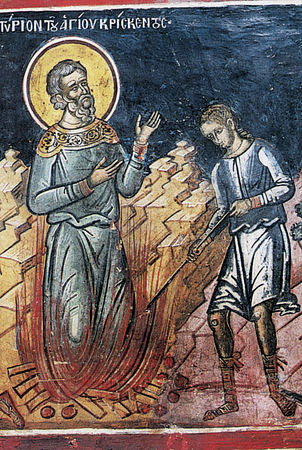 The Holy Martyr Crescens (Kreskes) was descended from an illustrious family and lived in Myra of Lycia. When a throng of city inhabitants were on the way to the pagan temple, he urged them to forsake paganism and come to Christ. This incident became known to the city prefect.
When the prefect asked the saint about his parentage, the saint, not wishing to bring unpleasantness to his parents, said nothing except that he was a Christian. The prefect knew St Crescens' father and wanted to do him a favor. He suggested that St Crescens only appear to offer sacrifice to idols, while remaining a Christian.
The holy martyr replied, "It is impossible for the body not to do as the soul thinks, since the soul governs and moves the body." They beat the holy martyr Crescens and raked him with iron claws, and then burned him in a fire.
St Andrew of Crete (July 4) mentions the Martyr Crescens in his Sermon on the Feast of St Nicholas the Wonderworker (December 6), who also came from Myra of Lycia.