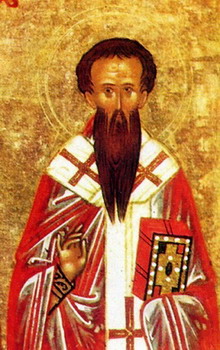 St Basil the Confessor, Bishop of Parium, lived during the eighth century. He was elected as bishop by the inhabitants of Parium, who venerated the saint as a true pastor of the flock of Christ.
When the Iconoclast heresy broke out, St Basil resolutely came out on the side of icon veneration and refused to sign the orders for their abolition (the "Iniquitous Scroll" of the Council of 754 which was convened under the emperor Constantine V Copronymos (741-775). The saint avoided any contact with the heretics and did not permit them into his diocese. For his zeal he suffered much persecution, hunger and deprivation.
St Basil remained faithful to the Orthodox Church until his death.
Troparion - Tone 4
Glorious hierarch Basil,
priest of the King of glory,
you are a radiant confessor of the Faith:
you opposed the iconoclasts and suffered for the Truth.
Standing before God, remember those who honor you.
Kontakion - Tone 6
You royally served the King of all,
holy hierarch Basil.
You revealed divine truths
and became a whole burnt offering.
You cry to those who honor you:
"The honor given to an icon ascends to Christ."