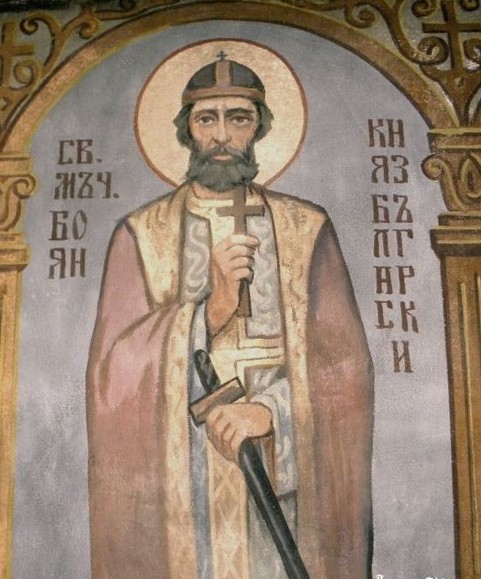 The Holy Martyr Boyan, Prince of Bulgaria, suffered for Christ around the year 830. When his pagan brother Malomir [Vladimir] ascended the Bulgarian throne, Prince Boyan asked him to free the learned Christian Kinamon, who had been in prison for a long time for refusing to participate in pagan sacrifices under Prince Obrit (Krutogon), Prince Malomir's predecessor.
Malomir consented and gave Kinamon to Prince Boyan as a slave. Boyan spoke to Kinamon about Christianity, telling him of the errors of paganism and that belief in Christ is necessary for salvation. At the end of their conversation he told the prince, "Without Jesus Christ there is no light for the mind, no life for the soul. He alone is the Teacher of mankind and our Savior. By His death, He has reconciled fallen mankind with God. If you do not wish to perish, believe in the Lord Jesus." Prince Boyan recognized the truth of his words, and was inspired to ask for Baptism.
The newly-converted prince was filled with a love of prayer, fasting and contemplation of God. Malomir, learning about the conversion of his brother to Christianity, demanded that he renounce the Christian Faith and return to paganism. Instead, the holy Prince Boyan answered, "I despise the pagan idols and I revere Christ, the true God. No one shall separate me from the love of Christ." Malomir, hearing his brother's reply, sentenced him to death.
Before his martyric death, the holy martyr-prince declared: "The faith for which I now die will spread throughout the Bulgarian land. You vainly imagine that you will stop it by killing me. Temples to the true God will be built, and priests will offer Him true worship. The idols and their foul sacrifices, however, will vanish." Then he said to his brother Malomir, "You will gain nothing from your cruelty, and death will soon overtake you."
The holy martyr was killed by the sword, and his predictions to his brother were the first to be fulfilled. Malomir soon died, and since he had no heir, his elder brother Presian (836-852) succeeded to the throne. Prince Presian's son, the holy Prince Boris, in holy Baptism Michael (May 2) later Christianized the Bulgarian nation. Thus the prophecy of the holy Martyr Prince Boyan was fulfilled.