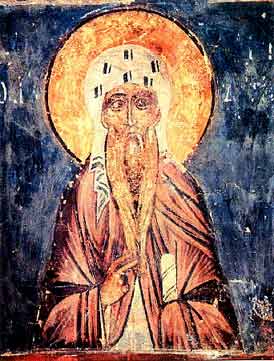 Saint Acacius, Bishop of Melitene, was born into a pious family in the Armenian city of Melitene. His parents were childless for a long time. They prayed for a son, and vowed to dedicate him to God. Therefore, Acacius was given to Bishop Ostrychius of Melitene (November 7) to serve the Church. St Ostrychius was a firm supporter of Orthodoxy. When the heresy of Macedonius arose, it was St Ostrychius who set forth the Orthodox teaching about the Holy Spirit as the Third Person of the Holy Trinity One in Essence and Undivided at the Second Ecumenical Council (381).
The holy hierarch raised Acacius with love, made him a reader, and then ordained him a deacon and then to the holy priesthood. St Acacius devoutly served the Church. He instructed both adults and children in the Holy Scripture, and in the Orthodox Confession of faith.
Among his disciples was St Euthymius the Great (January 20).
After the death of St Ostrychius, St Acacius was elevated to the bishop's throne of Melitene by general acclamation. He wisely governed his diocese. By his firm faith, humility and deeds, the saint acquired the gift of wonderworking. Once, during a dry summer, the saint celebrated Liturgy in an open field, suddenly the wine in the Holy Chalice was mixed by the falling rain, which fell throughout the land.
He prayed during a flood, and the advancing river turned away and did not rise higher than the stone which he had placed at the riverbank. On one of the islands of the River Azar, despite the opposition of the pagans, the saint built a temple in honor of the Most Holy Theotokos. The builders of the church either through carelessness or through malice, were not careful in building the dome. During the Liturgy the dome was ready to collapse. The people rushed out of the church in terror. But the saint halted their flight saying, "The Lord is the defender of my life, of whom shall I be afraid?" (Ps. 26/27:1). The dome remained suspended in the air. Only when the services were ended, and the saint was the last one to emerge from the church, did the dome collapse, causing harm to no one. After this, the church was rebuilt.
St Acacius participated in the Third Ecumenical Council (431) and he defended the Orthodox teaching of the Two Natures (Divine and Human) of the Savior, and of His seedless Birth from the Most Holy Virgin Mother of God.
St Acacius peacefully fell asleep in the Lord around the year 435. He should not be confused with St Acacius the Confessor (March 31), who was also a bishop of Melitene.