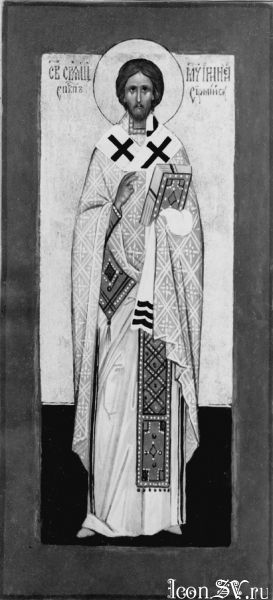 Hieromartyr Irenaeus suffered during the persecution against Christians under the Roman emperors Diocletian and Maximian (284-305).
He was a presbyter, and he and his wife raised their children in Christian piety. St Irenaeus was greatly respected for his education and strict manner of life.
He was later made Bishop of Sirmium in Pannonia (modern Hungary). Because of his fervent preaching of the Gospel he was arrested and brought before an official named Probus. Refusing to deny Christ and offer sacrifice to the pagan gods, the saint was handed over for torture. Witnessing his torments were the saint's parents, relatives and friends, who attempted to persuade him to submit, but the martyr remained steadfast.
After cruel tortures, the holy confessor spent a long time in prison. Probus tried to persuade the martyr, urging him to spare his life for the sake of his sons. St Irenaeus replied, "My sons believe in God, Who will care for them. As for me, nothing will force me to renounce my Christ."
The governor ordered the saint to be thrown into a river. They led the martyr on the bridge crossing the River Sava, where he knelt and prayed to the Lord for his flock. Then they beheaded the Hieromartyr Irenaeus, and threw his body into the river.