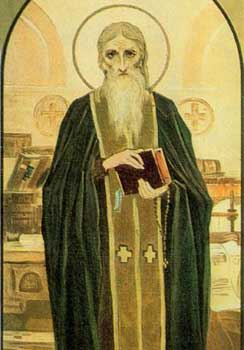 Saint Nikon of the Kiev Caves was the first disciple and fellow-ascetic of St Anthony (July 10), the founder of the Kiev Caves monastery, to which he came as a priest. At the monastery he tonsured all the new monks, and among their number was St Theodosius of the Caves (May 3 and August 14).
For tonsuring the favorites of the Great Prince Izyaslav, Sts Barlaam (November 19) and Ephraim (January 28 ), St Nikon brought the wrath of the prince down upon himself, but he refused to force the new monks to leave the monastery. The princess calmed Izyaslav, and he left St Nikon in peace.
When the number of brethren in the monastery had increased, St Nikon desired to go into seclusion and live as a hesychast. He went to the Tmutarakan peninsula (on the eastern banks of the Kerchensk straits) and settled in an unpopulated spot. When news of his holy life and spiritual gifts spread throughout the region, many gathered about him, wishing to follow his example. Thus a monastery and a church were founded in the name of the Most Holy Theotokos.
When he returned to the Kiev Caves monastery, St Nikon was obedient to St Theodosius as his spiritual Father. According to St Nestor the Chronicler (October 27), when St Theodosius had to go somewhere, he entrusted all the brethren to the care of St Nikon. Sometimes he asked St Nikon to offer instruction to the brethren in place of himself. Often, when St Nikon was binding books, St Theodosius sat near him and spun the thread for the binding.
When Prince Svyatoslav drove out his brother Izyaslav from Kiev, St Nikon returned to the monastery he founded. He returned under the igumen Stephen. When St Stephen (April 27) left the Kiev Caves monastery, St Nikon was chosen as igumen of the monastery. He toiled much to adorn his monastery with spiritual books and icons. He died at a great old age (+ 1088) and was buried in the Near Caves of St Anthony.