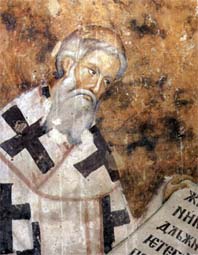 Saint Arsenius, Archbishop of Pech, was born in Srem. He spent a large part of his life as a monk at the Zhicha monastery under the spiritual direction of St Sava (January 14). Because of his strict ascetic life, St Sava made him the igumen of the monastery.
When Serbia was invaded by Hungary, St Sava sent St Arsenius to find a safer place in the south for a new episcopal See. Arsenius chose Pech, where he built a monastery and a church which was dedicated to the Holy Apostles, and then to the Lord's Ascension.
Before leaving for Jerusalem, St Sava designated Arsenius as his successor. In 1223, St Sava died in Trnovo on the way home, and St Arsenius urged King Vladislav to bring his body home for burial in Serbia. After thirty-three years of wisely guiding his flock, St Arsenius fell asleep in the Lord in the year 1266. His relics were buried at the Pech monastery, but now rest in the Zhrebaonik, Montenegro.
Troparion - Tone 5
Wise and praiseworthy martyr of Christ Parasceva,
You conquered the devil by accepting courage and rejecting feminine weakness.
You shamed your torturer by crying out:
Come rend my body with your sword and burn it with fire,
For I go rejoicing to Christ my bridegroom.
By her prayers, O Christ God, save our souls.