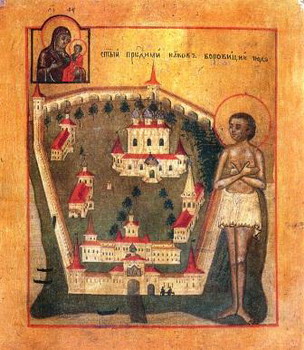 Translation of the relics of Blessed James of Borovichi, Wonderworker of Novgorod St James took upon himself the arduous task of foolishness for Christ in his youth. Most of the details of his life are unknown, but the Lord glorified him after death.
In the year 1540, on the third day of Pascha, a large block of ice floated up against the current along the River Msta to the village of Borovichi (in Novgorod district), and on this block of ice stood the coffin (made from an oak log) without cover, in which the body of the youth lay. Shunning the holy relics, peasants with poles pushed the block of ice back into the river, but it returned to the shore. This was repeated three times. That night the youth appeared in a dream to the elders of the village, who had seen him upon the ice-flow, and said, "I am also a Christian just like you. Don't push me away. My name is James. I am the namesake of St James, the Brother of God."
The relics of the holy youth were first placed in a chapel, then in 1544 were transferred to the Descent of the Holy Spirit church. Then the annual commemoration of the saint every year on October 23 was established. The Lord, having glorified his God-pleasing one, granted the relics of St James a curative power. A Feastday with Matins was established in 1572. The Iconographic Manuals describe St James: "A youth, bare, girded with a piece of cloth." In 1657 Patriarch Nikon sent part of the relics to Valdai, to the Iveron monastery.