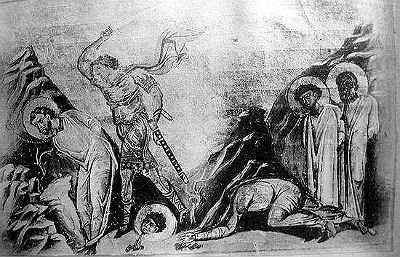 The Holy Martyrs Alexander, Alpheius, Zosimus, Mark the Shepherd, Nikon, Neon, Heliodorus and others suffered for confessing the Christian Faith in various places of Asia Minor during the reign of Diocletian (284-305).
St Mark, a shepherd, was arrested for his open confession of the Christian Faith in Pisidian Antioch. The thirty soldiers guarding him were converted by St Mark, and they were beheaded at Nicea, but St Mark was sentenced to tortures.
The brothers Sts Alexander, Alpheius and Zosimus were blacksmiths from the settlement of Katalitea, or Kalitea. They were summoned to forge the instruments of torture which would be used on St Mark the Shepherd. The iron did not melt and fuse, however, and the hands of the blacksmiths grew numb. Hearing a voice summoning them to suffer with St Mark, the brothers believed in Christ.
After fierce torture they poured molten tin down their throats. After enduring many tortures, St Mark was beheaded at Claudiopolis. When they carried the head of the holy martyr into the pagan temple of Artemis, all the idols fell down and were smashed. The witnesses of this miracle, Nikon, Neon, Heliodorus and other young men and women, believed in Christ, confessed their faith and died martyrs at Maromilium.