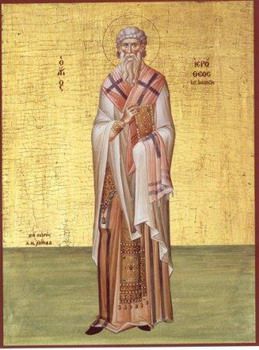 The Hieromartyr Hierotheus, the first Bishop of Athens, was a member of the Athenian Areopagos and was converted to Christ by the Apostle Paul together with St Dionysius the Areopagite (October 3).
The saint was consecrated by the Apostle Paul to the rank of bishop. According to Tradition, Bishop Hierotheus was present with St Dionysius at the funeral of the Most Holy Theotokos.
St Hierotheus died a martyr's death in the first century.
Troparion - Tone 1
We the faithful all praise Hierótheus, the disciple of Paul,
Hierarch of Athens,
the world's teacher and a preacher of the Faith,
who revealed to us Christ's Mysteries
and poured forth streams of godly doctrine.
His life was well-pleasing to God, who is greatly greatly merciful.
Kontakion - Tone 8
Hierarch of Athens, we praise you for you have instructed us in awesome and ineffable things,
and you were revealed to be a divinely-inspired writer of hymns.
Pray that we be delivered from every kind of sin, so that we may cry to you:
"Rejoice, divinely-wise Father Hierótheus."