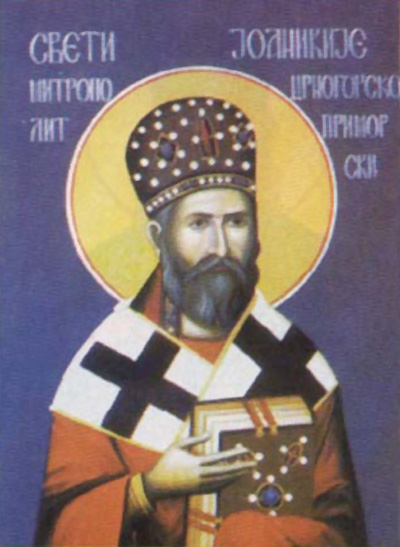 Our father among the saints Metropolitan Joanikije (Lipovac) (in Serbian:Свети свештеномучуник Јоаникије Црногорско-приморски) was the Metropolitan of the Diocese of Montenegro and the Littoral in Yugoslavia as it became a battleground during World War II. He attempted to maintain the diocese as the area transitioned between German and communist rule. With the ascendency of communist control he attempted to leave the area with many of his priests. The attempt was unsuccessful and he and his party of priests were brutally killed. In 1999, his name was added to the list of Serbian saints.
The future metropolitan was born Jovan Lipovac into the family of Špiro and Marija Lipovac on February 16,1880 in Stoliva on the Bay of Boka Kotorska. His mother's maiden name was Damjanovic. Jovan completed primary school education in Prcanj, followed by grammar school in Kotor. Jovan began his theological studies at the Orthodox Theological Institute in Zadar, and continued at the Philosophical Faculty in Belgrade. He also passed an exam for the professorship of theological subjects.
Jovan was ordained deacon on November 8, 1912 and as a priest on November 10 by Bishop Vladimir of Boka Kotorska and Dubrovnik. During the period 1912-1918 he was a chaplain in Kotor before becoming a parish priest in Laštva. From 1919 to 1925 he was an assistant professor in the grammar school in Cetinje, before assignment to the lower-grade Female School, Female Teachers School, and the Cetinje Seminary. From 1925 to 1940, he was a professor in the First Male Grammar School in Belgrade.
After the death of his wife, he was elected Auxiliary Bishop of Budimlje at the end of 1939. He, then, took monastic vows with the name Joanikije at the Rakovica Monastery in Skopje. Joanikije was consecrated bishop on February 11, 1940 by Metropolitan Josif in the Belgrade Cathedral. Later, on December 10, 1940, he was elected Metropolitan of Montenegro and the Littoral at an extraordinary session of the Holy Assembly of Bishops.
Metr. Joanikije was the ruling bishop of the Diocese of Montenegro and the Littoral at a very difficult time. He was able to keep the Cetinje Seminary functioning even during in the hardest times of war. On July 20, 1942, he directed his priests: "to avoid any kind of political engagement and to take care of their duties and dignity". As communist forces gained control, his clergymen were increasingly subjected to arrest and persecution. To escape the arrests and persecutions, he attempted to leave the country together with seventy of his priests. Unfortunately, he did not succeed; they were all captured near Zidani Most. The priests were shot, and Metr. Joanikije was taken to Arandjelovac, where the communists viciously killed him. The site of his remains is still unknown.
In 1999, at the regular session of the Holy Assembly of Bishops of Serbia, Joanikije, Metropolitan of Montenegro and the Littoral, was canonized and his name was entered into the List of Names of the Serbian Church Saints.