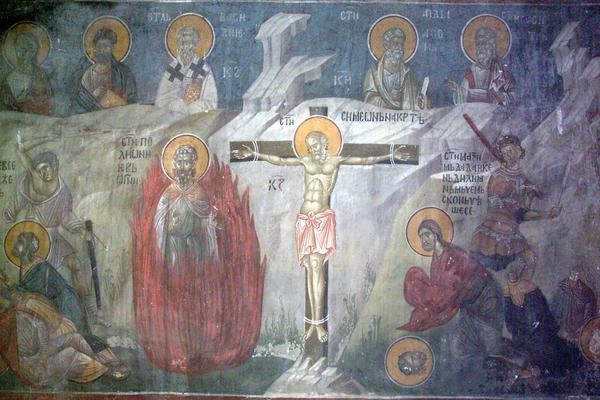 The Martyrs Maximus, Dada, and Quinctilian suffered under the emperor Diocletian (284-305), who issued a decree requiring everyone to offer sacrifice to the pagan gods during the public festivals, and to put Christians to death.
Tarquinius and Gabinius, the emperor's representatives in Dorostolum, made a sumptuous feast, attended not only by the inhabitants of the city, but also people from the surrounding villages.
After the festivities, someone reported to the emperor that three brothers, Dada, Maximus and Quinctilian, did not obey the imperial decree and withdrew themselves into the Ozovia forest. Soldiers were sent after them, who caught the holy brothers at prayer and led them forth for trial.
The governors interrogated the brothers, who confessed themselves Christians. Tarquinius offered to make St Maximus a pagan priest of Zeus, but the saint called Zeus a foul adulterer and again confessed the True God.
Tarquinius attempted to reason with Sts Dada and Quinctilian. They said that their brother was well versed in the Holy Scripture and they would follow him in everything. They threw the martyrs into prison, but they thought only of the salvation of their souls. At midnight when the saints were asleep, the devil appeared to them. When the martyrs woke, they beheld an angel who said, "Fear not, for God your hope brings you to Himself. He is not far from you and will sustain you."
In the morning, Tarquinius told the brothers that the gods had revealed their will to him in a dream: they were to be put to death if they did not offer sacrifice. The martyrs answered that the Lord had commanded them to endure torments for His sake.
The tortures and interrogations continued for several days from morning to evening. Finally, they sentenced the martyrs to death, led them out under guard to their forest and beheaded them with a sword.