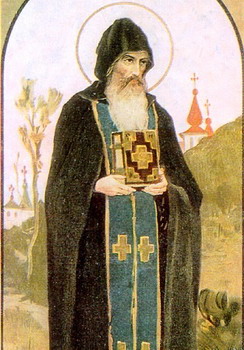 St Stephen, Igumen of the Caves, Bishop of Vladimir in Volhynia, pursued asceticism at the Kiev Caves monastery under the guidance of St Theodosius (May 3). St Theodosius sometimes entrusted him to exhort the brethren with edifying words.
Before the death of St Theodosius the monks asked him to appoint St Stephen as Igumen, who was the domesticus (chief arranger for the choir). "He grew up under your instruction," they said, "and he served you. Give him to us." So St Theodosius transferred the guidance of the monastery to St Stephen.
During his tenure as Superior, he laid the foundations of a spacious church in honor of the Dormition of the Most Holy Theotokos, begun under St Theodosius. The cells of the brethren were moved near the new church. At the front of the place there were several cells for monks who were entrusted with burying the dead. They served the Divine Liturgy each day, and also commemorated the dead.
In 1078 St Stephen was removed from office and driven from the monastery through the malice of an evil monk. He endured his meekly and without bitterness, and continued to pray for those who had turned against him.
St Stephen learned that master builders had come from Greece with an icon of the Theotokos, and they told him of the appearance of the Heavenly Queen at Blachernae. Because of this, St Stephen also built a church at Klovo in honor of the Theotokos (in memory of the Placing of Her Robe at Blachernae). The monastery was founded in thanksgiving for solicitude of the Most Holy Theotokos for the Caves monastery.
In 1091 St Stephen was made Bishop of Vladimir in Volhynia, and he participated in the transfer of the relics of St Theodosius from the cave to the monastery (August 14). He also labored to convert the inhabitants of Volhynia to Christianity.
St Stephen died on April 27, 1094 during the sixth hour of the night.