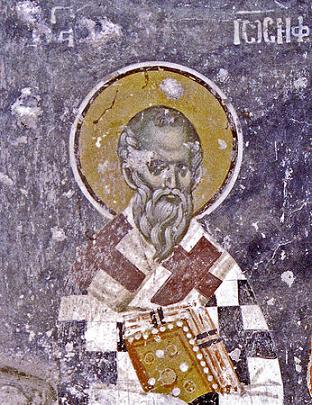 Saint Joseph, Archbishop of Thessalonica, was brother of St Theodore the Studite (November 11), and together they pursued a life of asceticism under the guidance of St Platon (April 5) in the monastery at Sakkudion, Bithynia.
Because of his ascetic life, St Joseph was unanimously chosen archbishop of the city of Thessalonica. He and his brother opposed the unlawful marriage of the emperor Constantine VI (780-797), for which he was tortured then banished to a barren island. The emperor Michael Rangabes (811-813) freed St Joseph from imprisonment.
Under the emperor Leo V the Armenian (813-820) the holy hierarch and his brother St Theodore suffered once more for their veneration of holy icons. Though they subjected him to torture, he remained steadfast in his faith. The iconoclast emperor ordered him to sign the iconoclast confession of faith, and when he refused they threw him into an even more foul prison.
Under the emperor Michael the Stammerer (820-829) St Joseph was set free, together with other monks who had suffered for their veneration of icons. He spent his final years at the Studion Monastery, where he died in 830.
St Joseph is renowned as a hymnographer. He composed triodia for Holy Week, several stikhera of the LENTEN TRIODION, a Canon for the Sunday of Prodigal Son (which is filled with the spirit of profound repentance), and other hymns. He wrote several sermons for feastdays, of which the best known is the Sermon on the Exaltation of the Precious and Life-Giving Cross of the Lord.