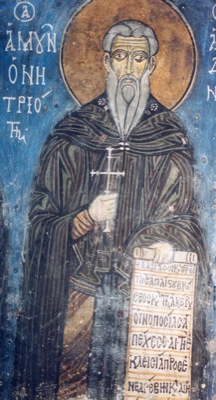 Saint Ammonas was a disciple of Saint Antony the Great and became his successor at the head of the hermits of the outer mountain of Pispir, after having spent fourteen years at Scetis in ceaseless prayer to the Lord to be granted victory over anger. He was afterwards consecrated bishop, probably by Saint Athanasius the Great. He possessed impassibility to the extent of being as though ignorant of the existence of evil, and incapable of passing judgment on anyone.
  "One day some people came to ask him to settle a difference among them. The Saint responded by pretending to be insane, and answered a woman who treated him as a madman: 'You don't realize how much trouble I've given myself in the desert to acquire this madness and I have lost it today because of you!' On another occasion when he was taken to visit a brother with a bad reputation, he sat on the barrel where his concubine was hiding while his accusers searched his cell in vain. Then, taking his leave of the unfortunate man, he simply said: 'Brother, have a care for yourself!'
  "When he was asked which deeds of ascesis are most pleasing to God, he replied: 'Just sit in your cell and eat a little every day, always keeping the prayer of the Publican in your heart (Luke 18:13), and you can be saved.' He also said that the fear of God begets moans and tears and these cause joy to arise in the soul, filling it with divine strength to do what is pleasing to God, and that this power from on high establishes us in the company of the Angels. Raised thus from height to height as we humbly pray to be delivered from sin, we shall (he said) receive as if of itself, revelation of the mysteries of God.