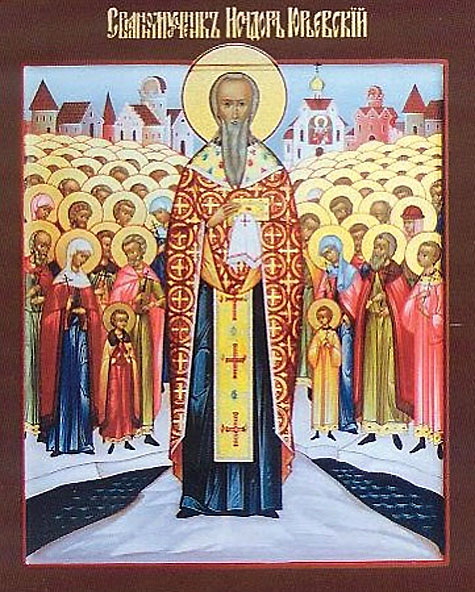 Saint Isidore was priest of St Nicholas church in the city of Yuriev (Derpto, at present Taru in Estonia). According to the terms of a treaty concluded in 1463 between the Moscow Great Prince Ivan III and the Livonian knights, the latter were obligated to extend every protection to the Orthodox at Derpto. But the Livonian knights (who were German Catholics) broke the treaty and tried to force the Orthodox to become Roman Catholics.
The priest Isidore bravely stood forth in defense of Orthodoxy, preferring to accept a martyr's crown rather than submit to the Catholics. The Latin bishop and the Roman Catholic nobles of Yuriev had been told that St Isidore and the Orthodox population of the city had spoken against the faith and customs of the Germans.
When St Isidore and seventy-two of his parishioners went to bless the waters of the River Omovzha (or Emaiyga, now Emajogi) for the Feast of Theophany, they were arrested and brought before the Latin bishop Andrew and the civil judges of the city. Pressure was brought on them to convert to Catholicism, but the saint and his flock refused to renounce Christ or the Orthodox Faith. Enraged by this, the authorities had them thrown into prison.
St Isidore encouraged his flock to prepare themselves for death, and not to fear torture. He partook of the reserved Gifts he carried with him, then communed all the men, women, and children with the Holy and Life-Giving Mysteries of Christ.
Then the bishop and the judges summoned the Orthodox to appear before them once more, demanding that they convert to Catholicism. When they refused to do so, they were dragged back to the river and pushed through the hole in the ice that they had cut to bless the water. So they all suffered and died for Christ, Who bestowed on them crowns of unfading glory.
During the spring floods, the incorrupt bodies of the holy martyrs, including the fully-vested body of the hieromartyr Isidore, were found by Russian merchants journeying along the river bank. They buried the saints around the church of St Nicholas.
Although people began to venerate these saints shortly after their death, they were not officially glorified by the Church until 1897.