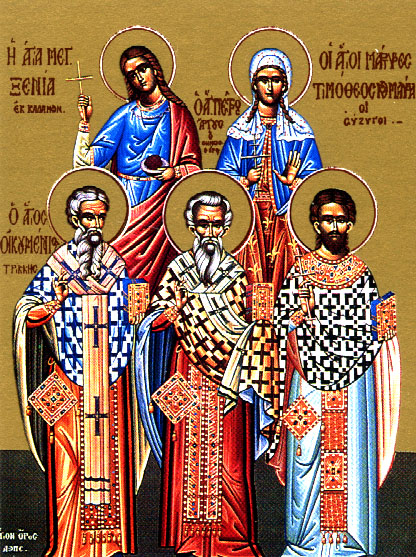 St Peter the Wonderworker, Bishop of Argos in the Peloponnesos, lived during the ninth and early tenth centuries, and was raised by pious parents. St Peter's parents, and later his brothers Paul, Dionysius, Platon and St Peter himself, all became monks. St Peter zealously devoted himself to monastic labors, and he excelled all his fellows. This came to the attention of the Italian bishop Nicholas (who from 895 was Patriarch of Constantinople), who wanted to elevate him to the rank of bishop. St Peter declined, accounting himself unworthy of such honor.
Bishop Nicholas consecrated Paul, St Peter's brother, as Bishop of Corinth, and St Peter went to his brother and lived with him, taking upon himself the spiritual struggle of silence. After a year emissaries came to Bishop Paul from the city of Argos, where the bishop had died, and they asked for St Peter as their bishop. After long and intense entreaties, St Peter finally gave his consent. As bishop, St Peter toiled zealously in guiding his flock. He was extraordinarily compassionate, concerning himself with those in need, especially orphans and widows.
The saint fed the hungry in years of crop failure. Through his prayers the food set aside for the hungry never ran out. The saint also ransomed captives, healed the sick and the afflicted, and possessed the gift of insight. The saint predicted the day of his death, and departed to the Lord at the age of seventy. His relics were transferred from Argos to Nauplos in 1421, exuding myrrh, and working miracles and healings.