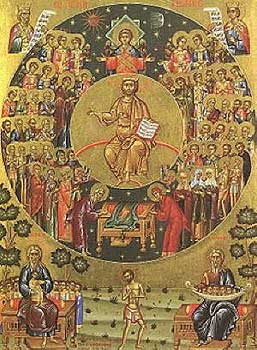 The Holy Martyr Dorothy, the Martyrs Christina, Callista and the Martyr Theophilus lived in Caesarea of Cappadocia and suffered under the emperor Diocletian in either the year 288 or 300.
As St Dorothy was being led to execution, Theophilus, one of the governor's counselors, laughed and said to her, "Bride of Christ, send me an apple and some roses from the Paradise of your Bridegroom." The martyr nodded and said, "I shall do that."
At the place of execution, the saint requested a little time to pray. When she finished the prayer, an angel appeared before her in the form of a handsome child presenting her three apples and three roses on a pure linen cloth. The saint requested that these be given to Theophilus, after which she was beheaded by the sword.
Having received the gracious gift, the recent mocker of Christians was shaken, and he confessed Christ as the true God. His friends were astonished, and wondered whether he were joking, or perhaps mad. He assured them he was not joking. Then they asked the reason for this sudden change. He asked what month it was. "February," they replied. "In the winter, Cappadocia is covered with ice and frost, and the trees are bare of leaves. What do you think? From where do these apples and flowers come?" After being subjected to cruel tortures, St Theophilus was beheaded with a sword.