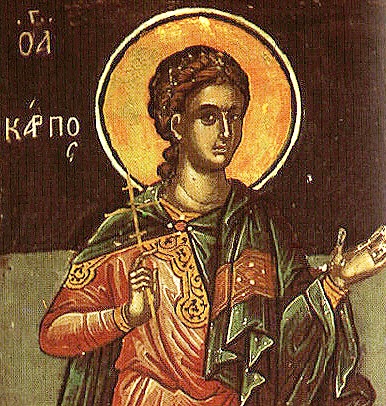 One of the Seventy, he was a follower and companion of the Apostle Paul, who installed him as Bishop of Varna in Thrace. But he also preached the Gospel in Crete, where he was host to St Dionysius the Areopagite. St Dionysius testifies that he was a man with an exceptionally pure mind, of great humility and guilelessness. He further relates how the Lord Jesus Himself appeared to Carpus in a vision with His angels, and how he never began the Liturgy without first receiving a heavenly vision. He endured many assaults for the name of Christ, and finally suffered at the hands of the faithless Jews and was murdered. His soul entered into the Kingdom of God, to delight forever in the vision of the Lord in glory.
Troparion - Tone 3
Holy Apostles Carpus and Alphaeus,
entreat the merciful God
to grant our souls forgiveness of transgressions.
Kontakion - Tone 4
Podoben: "Today You have shown forth..."
The Church ever sees you as a shining star, Apostle Carpus.
Your miracles have brought her great enlightenment.
Save those who in faith honor your memory.