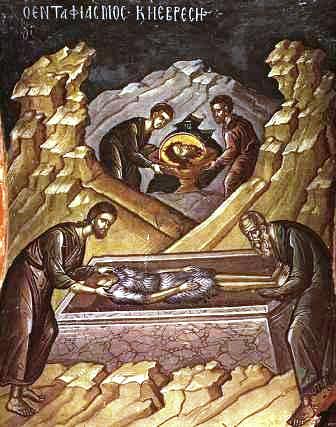 The Third Discovery of the Venerable Head of the Holy Prophet, Forerunner and Baptist John occurred in about the year 850 (see the account of the First and Second Discoveries on February 24). The head of St John the Forerunner was found in the city of Emesia during a time of unrest at Constantinople connected with the exile of St John Chrysostom (November 13).
It was transferred to Komana during the Saracen raids (about 820-820) and it was hidden in the ground during a period of iconoclastic persecution. When the veneration of icons was restored, Patriarch Ignatius (847-857) saw in a vision the place where the head of St John the Forerunner was hidden. The patriarch communicated this to the emperor, who sent a delegation to Komana. There the head was found a third time arond the year 850.
Afterwards the head was again transferred to Constantinople, and here on May 25 it was placed in a church at the court. Part of the head is on Mt. Athos. The Third Discovery of the Head of John the Baptist is commemorated on May 25.
Troparion - Tone 4
As a divine treasure hidden in the ground
Was your head revealed to us by Christ, O prophet and forerunner.
We have gathered in commemoration of this finding
With inspired hymns of praise to the Savior,
Who saves us from corruption through your prayers!
Kontakion - Tone 4
By giving your venerable head to a sinful woman,
Herod broke the law of God.
But we behold it and cry out for joy,
And say to you, O forerunner:
Pray to the Lord that He may grant mercy to us all!