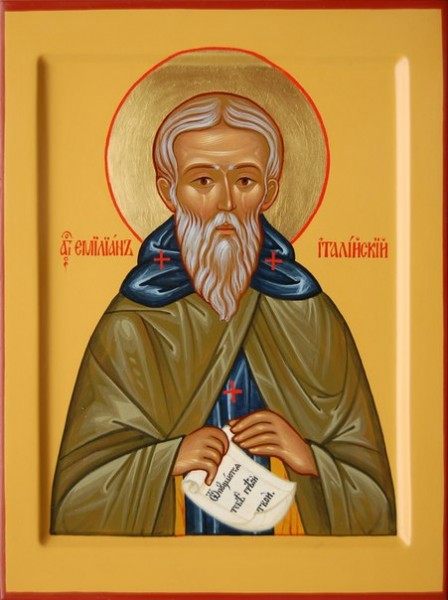 Saint Emilian of Italy (in the world Victorinus) was a Roman by birth, and until he was an old man, he led a sinful life. He finally repented, withdrew to a monastery, and became a monk with the name of Emilian. For the remainder of his days he humbly served God, astounding the brethren by his uncomplaining obedience and strict fasting. The monks noticed that at night Emilian secretly visited a cave near the monastery. Once, the igumen followed him and found St Emilian in the cave, praying with tears of contrition, and illumined by an unearthly light. He heard a Voice saying, "Emilian, your sins are forgiven."
Deeply moved by all that had happened, the igumen after morning services asked the Elder to tell the brethren his secret, and the saint told everyone of God's great mercy toward him. Then the igumen said to the brethren, "The Lord could have forgiven him his sin in secret, but for our sake He revealed His mercy with light and a voice, so that we might behold His grace and mercy toward sinners who repent."
St Emilian spent the remainder of his days in spiritual joy, and peacefully departed to the Lord.