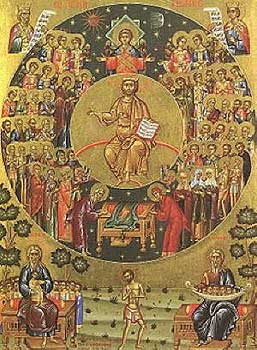 Saint Damian of Philotheou was a disciple of St Dometius (August 7). He was from the village of Richovon (Merichovon) near Agrapha. He went to Mt. Athos when he was quite young, and received the monastic tonsure at Philotheou Monastery. After spending some time there, he withdrew to a hermitage under the guidance of an Elder named Dometius.
After three years, he heard a voice telling him to go forth and teach. He obeyed these instructions, preaching in many areas of Greece. He urged his fellow Christians to repent of their sins, to abstain from all vices, to obey God's commandments, and to devote themselves to God-pleasing works.
As he was on his way to a village, St Damian was arrested by the Turks and thrown into prison. After fifteen days of torture, he was hanged and then thrown into a fire.
St Damian received the crown of martyrdom on February 23, 1568.