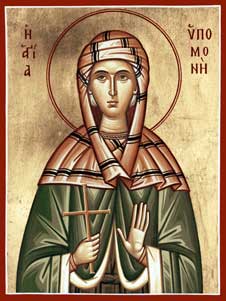 Helena was born to Constantine Dragaš of the noble House of Dejanović . Constantine was a Serbian provincial lord, ruling one of the principalities that emerged after the breakup of the Serbian Empire , centered at Velbăžd ( Kyustendil ). Her mother was Constantine's unnamed first wife (not his second wife, Helena's stepmother Eudokia of Trebizond ). Her stepmother was a daughter of Alexios III of Trebizond and Theodora Kantakouzene , and the widow of Tadjeddin Pasha of Sinop , Emir of Limnia . Her father died in 1395 at the battle of Rovine , while fighting for his overlord Sultan Bayezid I of the Ottoman Empire against the rebel Mircea I of Wallachia .
She was well known for her beauty, piety, wisdom, and justice. Her husband (as a former emperor) became a monk with the name Matthew ( Ματθαῖος ). After his death, on 21 July 1425, she became a nun at the Monastery of Kyra Martha , taking her monastic name. She helped to establish a home for old people, with the name "The Hope of the Despaired". The home was located at the Monastery of St. John in Petrion, where the relics of St. Patapius of Thebes are also kept.
When her eldest son, John VIII, died in 1448, the succession was disputed between Constantine , her eldest remaining son and John's chosen heir, and his ambitious but inept younger brother, Demetrios . As Empress Dowager, Helena backed Constantine, and assumed the regency in Constantinople while her sons competed for the throne. She eventually persuaded Sultan Murad II to intervene in Constantine's favour, leading to his assumption of the throne in January 1449. When Constantine became Emperor, he referred to himself as Constantine XI Dragases Palaiologos, after Helena, to whom he was close.
Helena died on 23 March 1450 in Constantinople. She is venerated by the Orthodox Church as a saint, and her memory is commemorated on May 29, the day of the Fall of Constantinople to the Ottomans and of the death of her son Constantine XI. Her skull, as a holy relic, is treasured in the Monastery of Saint Patapios in Loutraki , Greece.
On 10 February 1392, Helena married Manuel II Palaiologos . They had several children. The list follows the order of births given by George Sphrantzes :
A daughter. Mentioned as the eldest daughter but not named. Possibly confused with Isabella Palaiologina, an illegitimate daughter of Manuel II known to have married Ilario Doria .
Constantine Palaiologos. Died young.
John VIII Palaiologos (18 December 1392 – 31 October 1448). Byzantine emperor, 1425–1448.
Andronikos Palaiologos (d. 1429).
A second daughter. Also not named in the text.
Theodore II Palaiologos (d. 1448).
Michael Palaiologos. Died young.
Constantine XI Palaiologos (8 February 1405 – 29 May 1453). Despotēs in the Morea and subsequently the last Byzantine emperor, 1448–1453.
Demetrios Palaiologos (c. 1407–1470). Despotēs in the Morea.
Thomas Palaiologos (c. 1409 – 12 May 1465). Despotēs in the Morea.