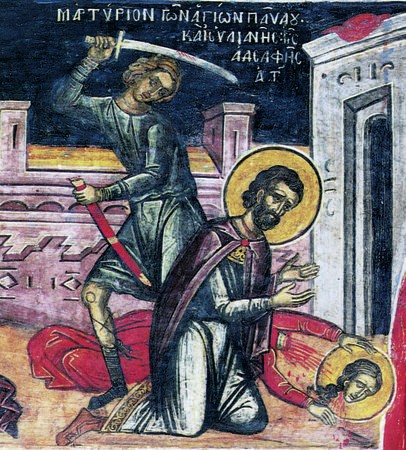 The Holy Martyr Paul and his sister Juliana were executed under the emperor Aurelian (270-275) in the Phoenician city of Ptolemais. The emperor happened to visit Ptolemais, and among those who met him was Paul, who made the Sign of the Cross. They arrested him and threw him in prison.
On the following day, when they brought him to trial, he openly and boldly confessed his faith in Christ, for which he was subjected to fierce tortures. Juliana, seeing the suffering of her brother, began to denounce the emperor for his injustice and cruelty, for which she was also subjected to torture.
They beat the martyrs, tore their bodies with iron hooks, burned them over red-hot grates, but they were not able to break the wondrous endurance of the Lord's confessors. Three soldiers torturing the saints were struck by the courageous spirit of the martyrs, and they in turn believed in Christ. These newly chosen of God were named Quadratus, Acacius and Stratonicus, and they were immediately executed.
The tormentor tried to seduce St Juliana with a promise to marry her, if she were to renounce Christ, but the saint refused the offer and remained steadfast. By order of the emperor they sent her to a brothel to be defiled. The Lord also preserved her there, and anyone who tried to touch the saint lost his sight. Then the enraged emperor commanded that they again burn the bodies of the saints. Those who saw the suffering of the saints began to murmur loudly, and Aurelian gave orders to behead the martyrs. With gladdened face the brother and sister went to execution singing, "For Thou hast saved us from those who afflicted us and hast shamed those who hated us" (Ps. 43/44:7).