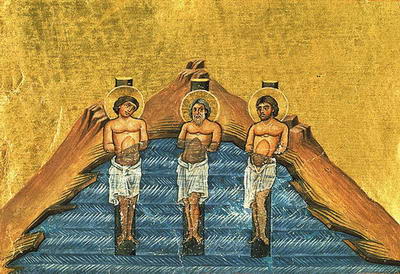 The Holy Martyrs Inna, Pinna and Rimma were Slavs from northern Scythia (modern Bulgaria), and they were disciples of the holy Apostle Andrew the First-Called. They preached the Gospel of Christ and they baptized many barbarians who converted to the true Faith. They were seized by the local chieftain, but they would not deny Christ, nor would they offer sacrifice to idols.
It was wintertime, and the rivers were so frozen that not only people, but also horses with carts could travel on the ice. The chieftain had the saints tied to logs on the ice, and gradually lowered them into the freezing water. When the ice reached their necks, they surrendered their blessed souls to the Lord.
Troparion - Tone 4
Your lamb (Inna, Pinna, Rimma),
calls out to You, O Jesus, in a loud voice:
"I love You, my Bridegroom,
and in seeking You, I endure suffering.
In baptism I was crucified so that I might reign in You,
and I died so that I might live with You.
Accept me as a pure sacrifice,
for I have offered myself in love."
Through her prayers save our souls, since You are merciful.