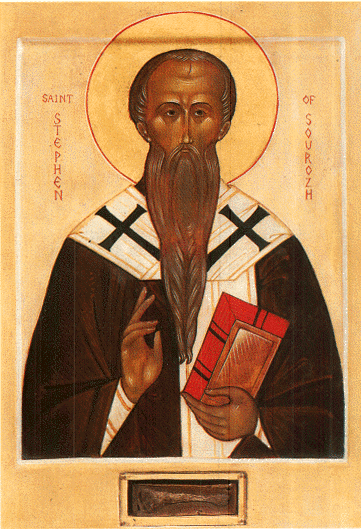 Saint Stephen the Confessor, Archbishop of Surrentium (Surozh), was a native of Cappadocia and was educated at Constantinople. After receiving the monastic tonsure, he withdrew into the wilderness, where he lived for thirty years in ascetic deeds.
Patriarch Germanus of Constantinople (May 12) heard of Stephen's humility and virtuous life, and wished to meet him. He was so impressed with Stephen that he consecrated him bishop of the city of Surrentium (presently the city of Sudak in the Crimea). Within five years, St Stephen's ministry was so fruitful that no heretics or unbaptized pagans remained in Surrentium or its environs.
St Stephen opposed the iconoclasm of the emperor Leo III the Isaurian (716-741). Since he refused to obey the orders of the emperor and the dishonorable Patriarch Anastasius to remove the holy icons from the churches, he was brought to Constantinople. There he was thrown into prison and tortured. He was released after the death of the emperor. Already quite advanced in years, he returned to his flock in Surrentium, where he died.
There is an account of how the Russian prince Bravlin accepted Baptism at the beginning of the ninth century during a campaign into the Crimea, influenced by miracles at the saint's crypt.
Troparion - Tone 4
O solitary dweller with the bodiless hosts,
You took the Cross as your weapon
And stood firm against the iconoclasts,
Who would not honor the icon of Christ our God.
But you cut out all wicked heresies,
Then, having won the martyr's crown,
You delivered your city, Surozh, from all enemies.
And now we implore you, O Stephen:
Deliver us from temptation and eternal torment!
Kontakion - Tone 3
Strengthened by the power of the Most High God,
You overcame the iconoclasts of the royal house.
Today your relics are the glory of Surozh and joy for the faithful,
And the bodiless hosts bear them triumphantly.
Glorifying you with hymns of praise, O great Hierarch Stephen!