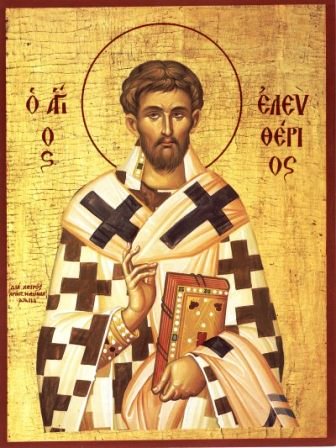 Hieromartyr Eleutherius, his mother Evanthia and Caribus the Eparch: St Eleutherius, the son of an illustrious Roman citizen, was raised in Christian piety by his mother. His virtue was such that at the age twenty, he had been elevated to bishop of Illyria. In the reign of the emperor Hadrian, St Eleutherius was tortured for his bold preaching about Christ, then was beheaded at Rome with his mother Evanthia. The Eparch Caribus, who had tortured St Eleutherius, also came to believe in Christ and was executed.
Troparion - Tone 5
Adorned with the robe of priest
Stained with the streams of your blood,
O wise and blessed Eleutherius, over-thrower of Satan
You hastened to Christ your Master. Pray unceasingly for those who faithfully honor your contest!
Kontakion - Tone 2
We all praise and entreat you, O Hieromartyr Eleutherius,
Adornment of priests and encouragement of martyrs:
Free from danger those who lovingly celebrate your memory,
And pray unceasingly for us all!