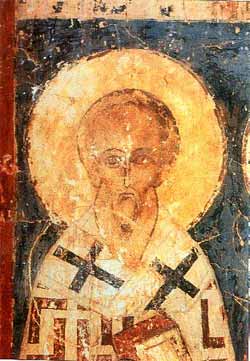 The Hieromartyr Alexander, Bishop of Jerusalem, was a disciple of the great teacher and writer of the Church, Clement of Alexandria. At the beginning of the third century he was chosen bishop of Flavia, Cappadocia. He was arrested during the reign of the emperor Septimus Severus (193-211) and spent three years in prison.
After his release from prison he went to Jerusalem to venerate the holy places, and was told to remain there through a divine revelation. In 212 he was chosen as coadministrator with the elderly Patriarch Narcissus, an unusually rare occurrence in the ancient Church. Following the death of St Narcissus (August 7), St Alexander succeeded him and governed the Church of Jerusalem for thirty-eight years, working for the enlightenment of Christians. He also established the first library of Christian theological works at Jerusalem.
St Alexander was arrested during the persecution of the Church under the emperor Decius (249-251). The holy martyr was sent to Cappadocia, where he suffered many tortures. He was condemned to be eaten by wild beasts, but they did not harm him. St Alexander was cast into prison, where he surrendered his soul to God.
The hieromartyr Alexander is also commemorated on May 16.