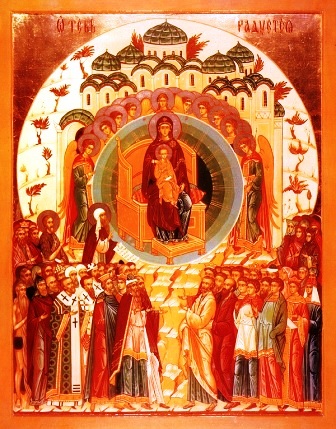 This Synaxis - which is to say, our coming together to glorify the Theotokos - is celebrated especially in her honour because she gave birth supernaturally to the Son and Word Of God, and thus became the instrument of the salvation of mankind.
On the second day of the feast, the Synaxis of the Most Holy Theotokos is celebrated. Combining the hymns of the Nativity with those celebrating the Mother of God, the Church points to Mary as the one through whom the Incarnation was made possible. His humanity - concretely and historically - is the humanity He received from Mary. His body is, first of all, her body. His life is her life. This feast, the assembly in honor of the Theotokos, is probably the most ancient feast of Mary in the Christian tradition, the very beginning of her veneration by the Church.
Six days of post-feast bring the Christmas season to a close on December 31. At the services of all these days, the Church repeats the hymns and songs glorifying Christ's Incarnation, reminding us that the source and foundation of our salvation is only to be found in the One who, as God before the ages, came into this world and for our sake was "born as a little Child."
Kontakion in the Plagal of the Second Tone
He, who was begotten of the Father before the morning star, without a mother, becomes incarnate of you today, without a father. Wherefore, a star announces the good news to the Magi. Angels with shepherds praise your immaculate birth-giving, O Full of Grace.