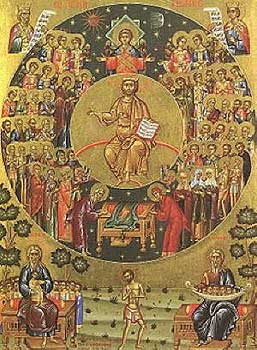 Saint Boniface the Merciful, Bishop of Firentium From his very childhood he was distinguished by his non-covetousness and love for the poor. When he saw a destitute man on the street, he took his own clothes and gave them away to those in need, to the chagrin of his widowed mother.
Once, he gave away a year's supply of grain, but the Lord worked a miracle through his prayer, and the family's granary was filled again. St Boniface became bishop of the city of Firentium (Florence), north of Rome (in Tuscany). Even in his lofty position as bishop he remained completely non-covetous and merciful towards people, and he directed his flock wisely, exhorting them to attend to even the least among their neighbors.
Troparion - Tone 4
You fervently followed the way of the martyrs
Confessing Christ before unbelievers, O Boniface.
You gave your body to modest Aglae
As an imperishable treasure.
Healing and mercy flow from it for the world.
Kontakion - Tone 4
You offered yourself as a blameless sacrifice,
O wise crown–bearer, Boniface,
To the one who is about to be born of a Virgin for your sake.