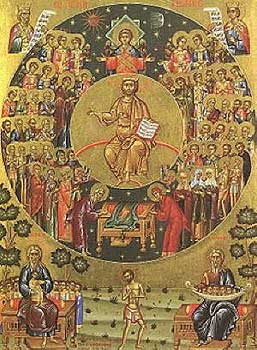 Saints Euthymius and Neophytus, Founders of the Docheiariou Monastery on Mt Athos, an uncle and his nephew, belonged to the highest Byzantine aristocracy. St Euthymius, while still in the world, was the friend of St Athanasius of Mt. Athos (July 5), and he later became a novice and disciple of the great ascetic. For his sincere love of the brethren, gentleness and his particular zeal in the ascetic life, St Athanasius granted the monk the duty of steward, which St Euthymius fulfilled as though entrusted to him by God Himself.
St Euthymius settled with several of the monks in the locale of Daphne, where he founded a monastery dedicated to Saint Nicholas, which he called Docheiariou in memory of his obedience. Guiding his own younger brethren, St Euthymius taught the necessity of attention towards self, to all the stirrings of the soul, explaining that the struggle of Christians, according to the Apostle Paul, is not "against flesh and blood, but against principalities, and against powers, and against the world-rulers of this darkness" (Eph 6:12).
The peaceful ascetic life of the monks was disturbed by the Saracens. The monk led all the brethren into the forest. Returning, they found the monastery razed to its very foundations. St Euthymius did not lose heart, and the monastery was rebuilt. St Neophytus, in the world, was a companion of the emperor Nicephorus Phocas (963-969). Upon the death of his parents he came to Mt Athos, where he was tonsured in the monastery of his uncle St Euthymius. Before his death, St Euthymius handed over the administration of the monastery to his nephew.
Under the spiritual guidance of St Neophytus, the small monastery grew into a Lavra. Asking the emperor Nicephorus to become a benefactor of the monastery, St Neophytus enlarged the monastery to its present size. St Neophytus was deigned to be chosen "protos" (head of the governing Council of Elders of the Holy Mountain) and for many years he labored there. After taking leave of the Council in his declining years, he returned to the Docheiariou monastery, where peacefully he fell asleep in the Lord.