| | | |
| --- | --- | --- |
| | October | |

| | | |
| --- | --- | --- |
| | 2016 | |
The Holy Martyr James the Persian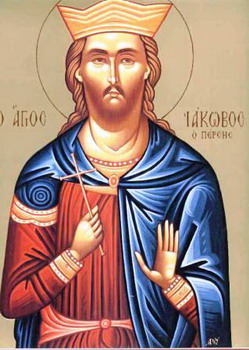 Born in the Persian town of Elapa, or Vilat, of Christian parents, he was brought up in the Christian faith and married a Christian wife. The Persian king, Yezdegeherd, loved James for his gifts and for his skill, and made him a noble at his court. Flattered by the king, James was deluded and offered sacrifice to idols, which the king also worshipped. His mother and wife, hearing of this, wrote him a reproachful letter in which they grieved over him as an apostate and one spiritually dead, begging him at the end of the letter to repent and return to Christ. Moved by this letter, James repented bitterly, and courageously confessed his faith in Christ the Lord before the king. The furious king condemned him to death, and added that his body was to be cut to pieces, little by little, until he breathed his last. The executioners fulfilled this command of the accursed king to the letter, and first cut off James"s fingers, then his toes, his legs and arms, his shoulders and finally his head. During the entire process, the repentant martyr gave thanks to God. A fragrance came from his wounds as of cypress. Thus this wonderful man repented of his sin, and his soul went to Christ his God in the heavenly Kingdom. He suffered in about 400. His head is to be found in Rome, and a part of his relics in Portugal, where he is commemorated on May 22nd.
The Seventeen Holy Fathers Martyred in India
These Christian monks suffered in India under King Abenner. Inflamed with anger against the elder Barlaam for having baptised his son Joasaph, King Abenner sent men in pursuit of Barlaam. The pursuers did not catch him, but seized seventeen other monks and brought them before the king. The king condemned them to death, and their eyes were first put out, their tongues cut out and their arms and legs broken before they were beheaded with the sword. But the Christian faith in the Indian kingdom was only the more strengthened by the blood of these glorious soldiers of Christ the Lord.
Our Holy Father Romanus the Wonderworker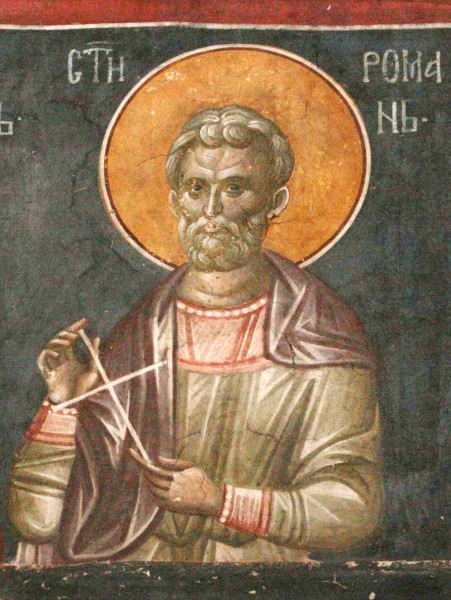 He lived in asceticism in the vicinity of Antioch. He never kindled a fire in his cell, or lit a candle. He died peacefully, and was a wonderworker both during his lifetime and after his death. He helps childless women when they ask his aid.
Our Holy Father Pinuphrius
A contemporary of St Cassian (Feb. 19th), he was a great Egyptian ascetic. He lived in the fourth century and followed the ascetic life in various places, fleeing the praise of men. He had many disciples, who strove to emulate the lofty example of their teacher.
Our Holy Father Nathanael
A Nitrian monk, he prayed to God both day and night, and was enlightened by pondering on the things of God. He did not cross the threshold of his cell for thirty-eight years. He entered into rest in the Lord in the second half of the sixth century.
St. Iakov (James), Bishop of Rostov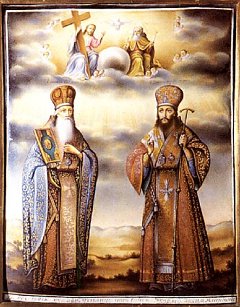 Sainted Iakov (James), Bishop of Rostov, according to a local tradition, received monastic tonsure at Kopyrsk monastery on the River Ukhtoma, 80 kilometers from Rostov. For a long time he was hegumen of this monastery, and in the year 1385 he was made Bishop of Rostov when Pimen was Metropolitan and Dimitrii Donskoy was GreatPrince...
Venerable Diodorus of George Hill (Solovki) (1633)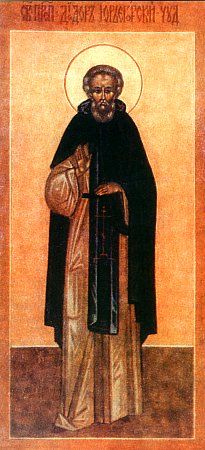 Venerable Palladius of Thessalonica (6th-7th c.)