| | | |
| --- | --- | --- |
| | September | |

| | | |
| --- | --- | --- |
| | 1914 | |
St Nicephorus, Patriarch of Constantinople (c. 758-829).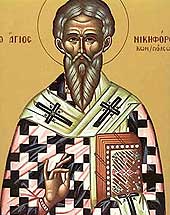 He governed the holy Church with wisdom and zeal as the greatest arch-pastor of Constantinople. When Leo the Armenian made his stand against icons, he opposed the Emperor; first counselling him and then denouncing him. For this the accursed Emperor exiled him to the island of Prochonis. There was a monastery on that island, which Nicephorus himself had built in honour of St Theodore. And this confessor of the Orthodox faith spent thirteen years there, then died and went to the Lord in 827. Then all the iconoclast Emperors perished, and Michael, with his mother Theodora, came to the imperial throne in 842, and Methodius became Patriarch. Then, in 846, the relics of St Nicephorus were translated from Prochonnesus to Constantinople and placed first in the Church of St Sophia, from which he had been driven in his lifetime, and then in the Church of the Holy Apostles. The main commemoration of this great hierarch is on June 2nd, but on March 13th is commemorated the finding and translation of his uncorrupt relics. St Nicephorus was driven from Constantinople on March 13th, and on March 13th, nineteen years later, his relics were brought back to his patriarchal seat.
The Holy Martyr Christina of Persia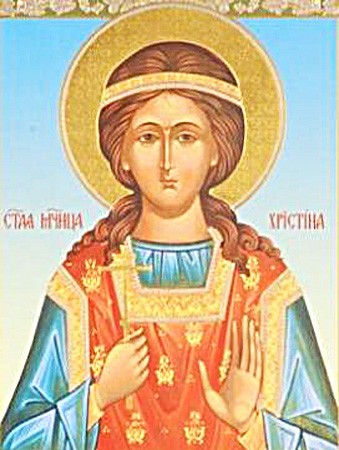 She was harshly tortured in Persia in the 4th century for her unfaltering confession of the Christian faith. The torturers whipped her so terribly that she died from exhaustion. Her soul parted from her martyred body and went to dwell in the eternal joy of Christ her King and Lord.
The Hieromartyr Publius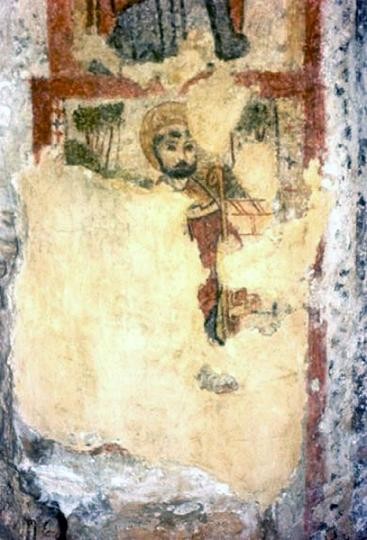 This priest and martyr was successor in the episcopate in Athens to the famous Dionysius the Areopagite. As bishop, he was tortured by unbelievers and beheaded in the 2nd century. For a brief time of torture he inherited eternal life.
Martyr Alexander of Macedonia (305)
The Holy Martyr Alexander was a presbyter in the city of Pidna, not far from Soluneia (Thessalonika). The saint converted many pagans to Christianity by his preaching. During the time of the persecution against Christians under the emperor Maximian Galerius (305-311), Saint Alexander was subjected to fierce tortures, and then beheaded.
Martyrs Africanus, Publius, and Terence of Carthage (3rd c.)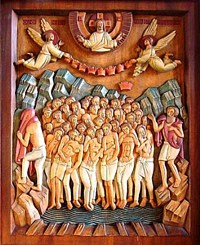 The Holy Martyrs Africanus, Publius and Terence suffered in the III Century at Petrium. Their memory is celebrated also on 10 April.
Martyr Sabinus (Abibus) of Egypt (303)

He was the administrator (we would say mayor) of the city of Hermopolis in Egypt. During a persecution, he and many other Christians fled to the mountains, where Sabinas shut himself in a hut and spent his days in fasting and prayer. But a poor man who brought him food (and whom Sabinas had helped in many ways) betrayed him to the authorities for two pieces of gold. Sabinas and six others were arrested, bound and brought before the governor Arian. After harsh torture, Sabinas was drowned in the Nile.