| | | |
| --- | --- | --- |
| | May | |

| | | |
| --- | --- | --- |
| | 2017 | |
The Holy Apostle Andronicus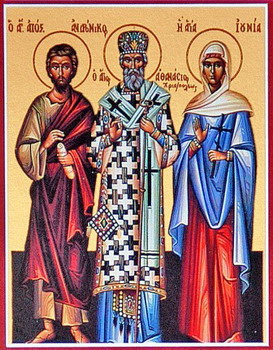 One of the Seventy, he was a kinsman of the Apostle Paul, as Paul wrote (Rom. 16:17), remembering also St Junia, Andronicus's helper. Andronicus was made Bishop of Pannonia, and did not stay in one place, but preached the Gospel throughout the whole of Pannonia. With St Junia, he was successful in bringing many to Christ and in demolishing many temples of idolatry. Both of them had the grace of wonder-working, by which they drove out demons and healed every sort of sickness and disease. They both suffered for Christ, and thus received a twofold crown: of apostleship and of martyrdom. Their holy relics were found in the excavations in Eugenius (see Feb. 2nd).
The Holy Martyr Solochon
He was an Egyptian by birth, and a Roman soldier under the commander Campanus, in the reign of the wicked Emperor Maximian. When the imperial command that all soldiers offer sacrifice to idols arrived, Solochon revealed that he was a Christian. Two of his friends, Pamphamir and Pamphylon, also did the same. The commander ordered that they be beaten and tortured with great harshness, under which St Pamphamir and St Pamphylon breathed their last. Solochon remained alive, and was put to new torture: the commander ordered the soldiers to force his teeth open with a sword and stuff his mouth with food sacrificed to idols. The martyr broke the iron with his teeth and did not receive the foul, idolatrous sacrifice. Finally, they stabbed him with a quill through both ears and left him thus to die. Christians took the martyr and -carried him to the home of a widow, where he gained a little strength with food and drink, and continued to give counsel to the faithful to be steadfast in their faith and in torture for it. After this, he breathed a thanksgiving to God, finished his earthly course and went to the Kingdom of heaven, to the Lord whom he had served so faithfully, in the year 298.
St Stephen, Patriarch of Constantinople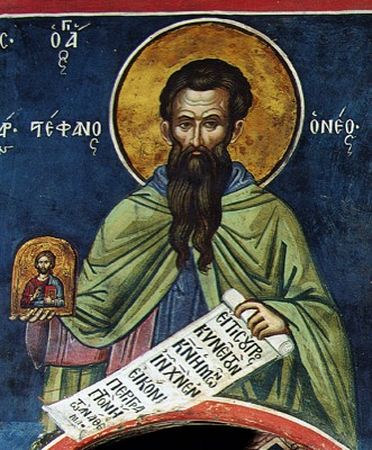 The son of the Emperor Basil the Macedonian and brother of Leo the Wise, he came to the patriarchal throne after Photius, and governed the Church of God from 886 to 893. He died peacefully, and went to the Lord whom he had greatly loved.
Venerables Nectarius (1550) and Theophanes (1544) of Meteora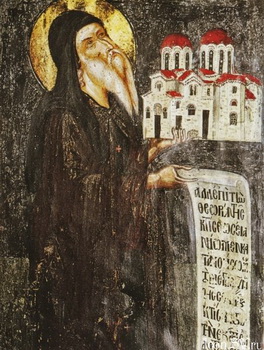 Venerable Athanasius the New, wonderworker of Christianopolis (18th c.)