| | | |
| --- | --- | --- |
| | April | |

| | | |
| --- | --- | --- |
| | 2017 | |
+++ The Annunciation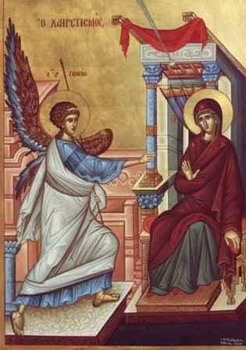 When the most holy Virgin had lived and served in the Temple at Jerusalem for eleven years, and was by then fourteen years old when, that is, she was entering on her fifteenth year - the priests informed her that, according to the Law, she could no longer remain in the Temple but must be betrothed and marry. But, to the great surprise of all the priests, the most holy Virgin replied that she had dedicated herself to God and wished to a maiden remain till death and enter into wedlock with no-one. Then, by God's providence and under His inspiration, Zacharias, the high priest and father of the Forerunner, in consultation with the other priests, chose twelve unmarried men from the tribe of David so that they might entrust the Virgin Mary to one of them to preserve her virginity and care for her. She was thus entrusted to Joseph, an old man from Nazareth and a kinsman of hers. In his house, the most holy Virgin continued to live in the same manner as in the Temple of Solomon, passing her time in the reading of the sacred Scriptures, in prayer, in pondering on the works of God, in fasting and in handwork. She scarcely ever left the house, nor took an interest in worldly matters or events. She generally conversed very little with anyone, and never without a particular need. She was intimate only with the two daughters of Joseph. But when the time prophesied by the Prophet Daniel had come and when God was pleased to fulfil the promise made to Adam when He drove him out of Paradise, and to the prophets, the mighty Archangel Gabriel appeared in the chamber of the most holy Virgin, at the precise moment (as some priestly writers have related) that she was holding open on her lap the book of the Prophet Isaiah and pondering on his great prophecy: 'Behold, a virgin shall conceive and bear a son'. Gabriel appeared to her in angelic light and said to her: 'Rejoice, thou that art highly favoured, the Lord is with thee!', and so forth, just as is related in the Gospel of the divine Luke. With this angelic greeting and the descent of the Holy Spirit, the salvation of mankind and the renewal of creation were set in motion. The Archangel turned the first page of the story of the New Testament with the word 'Rejoice!', to show by this the joy that the New Testament signifies for mankind and for all things created. And therefore the Annunciation is looked upon as a joyous, as well as a great, feast.
The Holy Martyrs Pelagia, Theodosia and Dula
These three holy women suffered for the Lord. Pelagia and Theodosia were slain with the sword after imprisonment and torture, but St Dula, a slave, suffered alone and died in the city of Nicomedia. God transplanted His three white roses, stained with the blood of martyrdom, into His heavenly garden.
Annunciation (16th c.) Icon of the Mother of God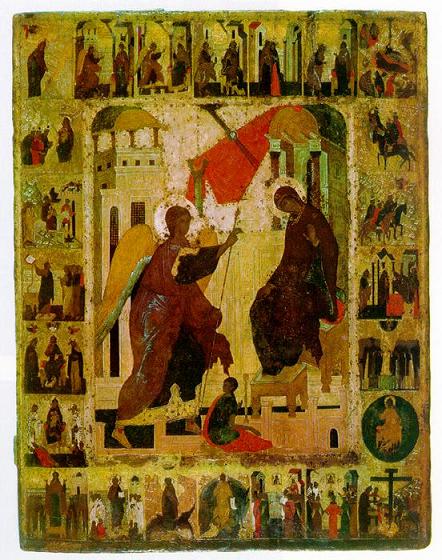 St. Senuphius the Wonderworker of Latomos (9th c.)